Description
The module of pulse step-up converter for mobile projects. It is powered with a battery LiPol 1S 3.7 V or LiIon, it can provide a stableoutput voltagewith value of 5.2 Vand current delivery of up to 1 A. It also has a built-incharger LiPol/Lilon1 A andmonitor of the state of charge of the battery.
A voltage of 5.2 V
The output voltage 5.2 V instead of the traditional 5.0 V, provides reserve power for long wires. This value is compatible with all devices running on 5 V, for example,ArduinoandRaspberry Pi,
Indicator of battery discharge
Module PowerBoost 1000C based on the systemTPS61090 which operates at a frequency of 700 kHz. The system has the capability of detecting low battery level. If the battery voltage drops below the value of 3.2 V, the indicator LED illuminates.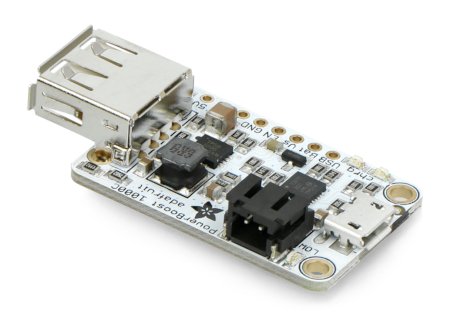 The system has the ability to connect the phone via microUSB slot.
Built-in battery charger
The converter also hasa built-in module of the battery chargerwith a current of 1 A and is powered through a micro usb connector. Two LEDs inform about the charging status. The option of automatic selection of power supply, automatically switches the power sources, so you can simultaneously charge  them and use the module.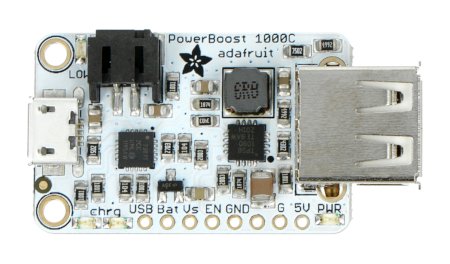 Because the module of charger LiPol / LiIonhas a charge current of 1 A, the power through the microUSB should be of good quality and have a performance of at least 2 A. The set includes USB-A connectorfor self-soldering.
Specification
Input voltage: of rechargeable battery Li-Pol 1S 3.7 V (from 3.0 V to 4.2 V)
Output voltage: 5,2 V
Output DC: up to 1 A
Output AC: up to 2.5 A
LED indicating the low battery level - the voltage at the cell below 3.2 V
It can work as a charger for smartphones
JST slot - in our offer, there is a compatible cable
Efficiency above 90 %
Mounting holes: diameter of 2 mm
Dimensions: 45 x 23 x 10 mm
Weight: 6 g