Product description: LTC4150 counter of coulombs / battery capacity - Sparkfun
The sensor is analogous to a car odometer for the electric current. You can count coulombs, i.e. the amount of current used in ampero-hours. The module is powered with the voltage from 2.7 V to 8.5 V and it operates with currents of up to 1 A.
After reading the used values of ampere-hours, knowing the battery capacity, you can easily calculate how much energy is left to use.
The product is compatible with Arduino
The manufacturer has prepared auser guidealong with sample code for Arduino available onthe GitHub.

Connection
The module should be connected between the power source and the circuit that will be measured. To connect the battery, use a JST connector or pins that are marked with the symbol IN. The circuit's power supply needs to be connected with OUT pins of the board. Counting the coulombs is enabled by the INT pin. The pin is by default in the high status, each flow of 0,0001707 C, i.e. 0,0001707 Aha (0,1707 mAh) causes a low status. Thus, you can count the energy used by the connected circuit.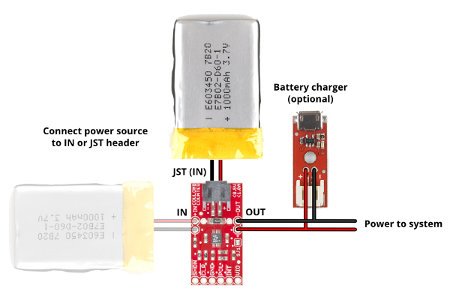 Example of connecting the module LTC4150, details are inthe user's guide.
Pins
The module has holes forgoldpin connectors - 2.54 mm pitch (not included in package, sold separately). Below, we show the description of the logical pins of the coulomb counter LTC4150.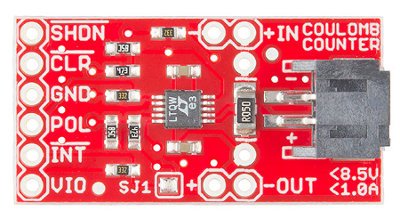 Pin
Description
VIO
Power supply should be connected to a voltage of 3.3 V or 5 V.
INT

The pulse counter is in high status, by default, it switches to low status at the flow of 0,1707 mAh.

1 INT = 0,614439 C = 0,1707 mAh = 0,0001707 Ah

RUS

Pin indicates the direction in which current flows:

low status - current flows from IN to OUT (discharging the battery),
high status - current flows from OUT to IN (charging the battery).

GND
The ground of the system.
CLR
Indicating the low status resets the INT pin. This pin can remain disconnected if the jumper S1 is turned on (by default).
SHDN
Indicating the low status, switches the system to standby mode. The pin is by default in the high status, pulled up to VIO.
IN
Connected with JST connector, pins for connection to battery.
OUT
The output pins to which connected must be the measured electric circuit.
Technical characteristics of the counter of coulombs / battery capacity
Operating voltage: 2.7 V to 8.5 V
Current: up to 1A
Sensitivity: +/- 50 mA
Current consumption in standby mode: 1.5 µa
Pins: holes forgoldpin connectors - 2.54 mm pitch (not included)
Dimensions: 30 x 10 mm
Weight: 3 g