Product description: Royal Resin epoxy resin dye powder - pearl - 10 g - orange
Pearl powder dye for Royal Resin epoxy resins and varnishes. Sealed in a stun pouch, 10 g product. Dyes can be used for colouring varnishes, silicones, rubber or plastic masses. They are characterized by the highest quality, uniform color and pearl brilliance. It is possible to use the dye also with thin layers of resin. The subject of the sale is a pearl dye in the color of intense orange. With its use you can create impressive casts and laminated coatings.
Features of Royal Resin Colorant Powder
The dye can be used with resins, varnishes, silicones, rubbers and plastic compounds.
The package contains 10 g of dye, which by default is enough to color about 1 kg of resin - depending on the intensity of coloring.
The product can be used both for casting and for very thin laminates.
The intensity of the colour depends on the amount of dye in the resin.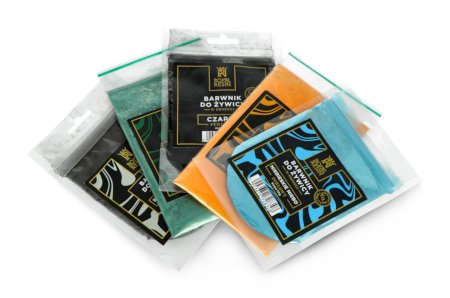 A wide range of colours of available dyes will allow you to obtain a dream effect of casts and laminates.
Features of Royal Resin Crystal
Used in production processes and DIY
Used for coating, laminating, casting and protecting items such as jewelry, 3D flooring, crafts and tabletops
Resistant to UV light and yellowing
Odourless, solvent-free
Resistant to most chemicals
Electrostatic, self-leveling
Low viscosity and minimal shrinkage
Waterproof and dust repellent