Product description: 3D printer - Flashforge Creator Pro 2
Modernised version of the Creator Proprinter, manufactured by Flashforge. The latest version of Creator Pro offers the usera system of two independent IDEX extruders, a modernizedmotherboard and a function to avoid print scratches. The working area of the device is 200 x148 x 150 mm.The device is fully assembled and does not require any complicated assembly.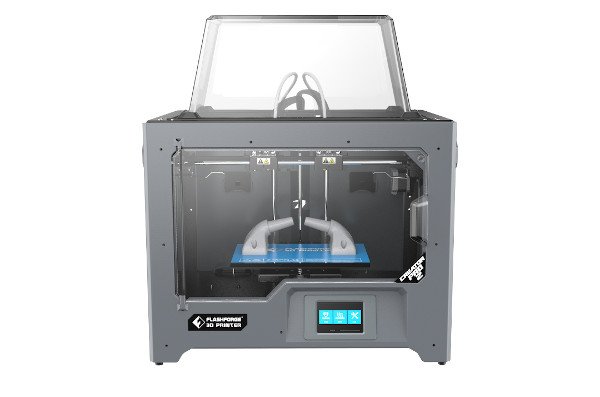 3D printer - Flashforge Creator Pro 2.
Comparison of Creator Pro and Creator Pro 2 models
Function
Creator Pro
Creator Pro 2
Work area:
227 x 148 x 150 mm
200 x 148 x 150 mm
Extruders:

2 dependent on each other

2 independent

Touch screen display:
not
Yes
Firmware:
Marlin open source
Flashforge
Two independent extruders
The manufacturer has used an advanced system oftwo independent IDEX extrudersin the latest printer version. Creator Pro 2 has thus obtained the ability to print two models simultaneously. The device supportsMirrorandDuplicatemodes.
Creator Pro 2 allows mirror printing and model cloning.
Precise X and Y axis calibration
For best printing results, Creator Pro 2 has the option toprecisely calibrate both extruders inthe two X and Y axis plane. The design of the axis itself has been upgraded from its predecessor. The mechanism of their displacement has been modified.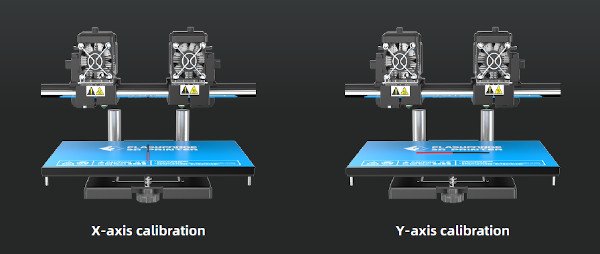 Calibration of extruders in X and Y planes.
Construction preventing printout scratches
The extruders and nozzles in Creator Pro 2 are designed to minimizethe risk of damage to the printoutas it occurs.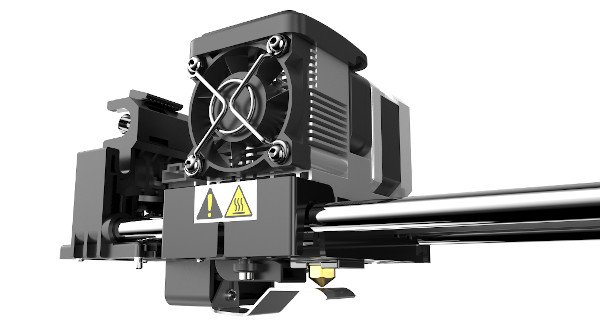 The design of Creator Pro 2 extruders has anti-scrape solutions.
Removable printer cover plate
Thanks to the removable cover, Creator Pro 2 can havea fully enclosed housing. The use of an overlay is recommended especially when printing with ABS film.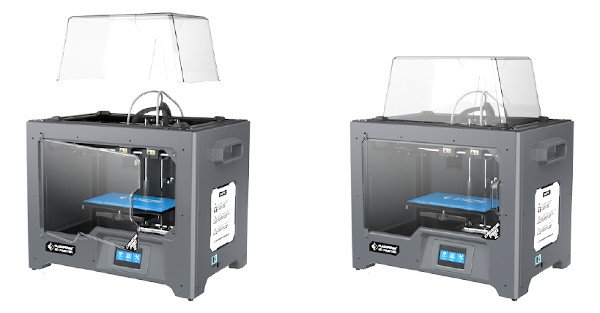 Removable cover in Flashforge Creator Pro 2.
Other printer functions

Creator Pro 2 is equipped with a touch screen and SD card reader.

Comfortable carrying handles and space for installation of two filament reels.
Creator Pro 2 specifications
Technical Specification
Power supply voltage:

110 V to 240 V (AC - mains)

Total power:
320 W
Number of extruders:
2
Print speed:
from 10 to 100 mm/s
Print accuracy:
± 0.1 mm
Print thickness:
from 0.05 mm to 0.4 mm
Nozzle diameter:

0.4 mm

The filament served:

PLA, Pearl PLA, ABS, PVA, ABS Pro, Hips

Diameter of the filament:
1.75 mm
Mode of operation:
USB cable, SD card
Display:
3.5'' touch
Input file format:
.3mf, .stl, .obj, .fpp, .bmp, .png, .jpg, jpeg
Output file format:
.gx/g
Software:
FlashPrint
Print size:

200 x 148 x 150 mm

80 x 148 x 150 mm - in mirror / duplicate modes

Nozzle temperature:
up to 240°C
Working table temperature:
up to 120°C
Dimensions of the printer:
526 x 360 x 403 mm
The weight:

15 kg
Kit contents
3D printer Creator pro 2 - 1 pcs.
Top cover - 1 pcs.
Random filament- 2 pcs. 
Power cable - 1 pcs .
USB cable - 1 pcs .
Support holder - 2 pcs .
SD card - 1 pcs .
Build Tape - 1 pcs .
Leveling card - 1 pcs .
Filament guide tube - 2 pcs.
Unclogging Pin Tool - 1 pcs.
Wrench - 1 pcs.
Screw driver - 1 pcs.
Grease- 1 pcs.
PTE Tube - 2 pcs.
Scraper - 1 pcs.
Anty-ozzing plate - 1 pcs.
Glue stick - 1 pcs.
Leveling nut - 1 pcs.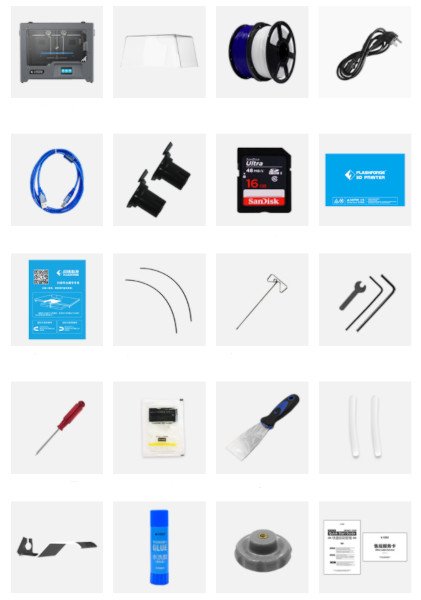 Items included in the printer kit.
The printer manufacturer allows the purchase of original spare parts dedicated to the device.