Product description: Google Coral Camera - G840-00180-01 5 MPx 2582 x 1933 px
Coral camera module G840-00180-01 equipped with 1/4" lens with parameters: field of view 84° / 87.6°, focal length: 2.5 mm, focus range: from 10 cm to ∞. The camera is designed for the Google Coral Dev Board. The device has an OmniVision 5 MPx sensor.
Camera features
Automatic exposure control
Automatic white balance
Automatic band pass filter
Cancels image shaking that occurs under artificial lighting
Automatic black level calibration
Controls image quality

Color saturation
Shade
Gamma
Sharpness
Lens correction
Noise correction

Autofocus with built-in VCM AF controller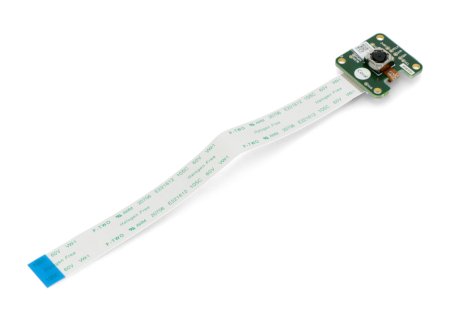 The camera comes with a ribbon cable that allows you to connect the device to the Google Coral Dev Board.
Specifications of Coral camera
Manufacturer: Coral
Sensor OmniVision OV5645 SoC (embedded ISP) 5 MPx

Pixel size 1.4 x 1.4 μm
Active array size 2582 x 1933 px

Diagonal: 1/4"
Field of view: 84° / 87,6°
Focal length: 2.5 mm
Focus: autofocus
Focus range: from 10 cm to ∞
Dual-band MIPI output interface
Cable length: 150 x 12.5 mm
Dimensions: 25 x 25 x 6.98 mm
Weight: 25.3 g
Included
Google Coral Camera
Tape to connect with Google Coral Dev Board