Product description: Grove - alcohol sensor - MQ3 - semiconductor.
Module with sensor MQ3 for detecting alcohol vapour and its concentration. The sensor iscompatible withArduinoand Raspberry,thanks toGrove connector it is possible toconnectdirectlytoGrove-Pi+ andGrove BaseShield.The sensorcommunicates through the analog interface, so in orderto use it with Raspberry it is required to use Grove-Pi+ overlay orADC.There is a potentiometer on the board to adjust the sensitivity.
Arduino compatible product
The manufacturer providesa user guideshowing its connection and programming.

Alcohol sensor connection - MQ3
The PCB is equipped witha 7-pin bracketso that the replacement of the sensor itself is non-invasive and can be simply removed. The board has a built-in Grove socket that allows direct connection of the sensor to Grove-Pi+or GroveBase Shieldcovers.Due to the analogue communication interface, the sensor cannot be connected to the Raspberry without using the Grove-Pi+ overlayorthe ADC.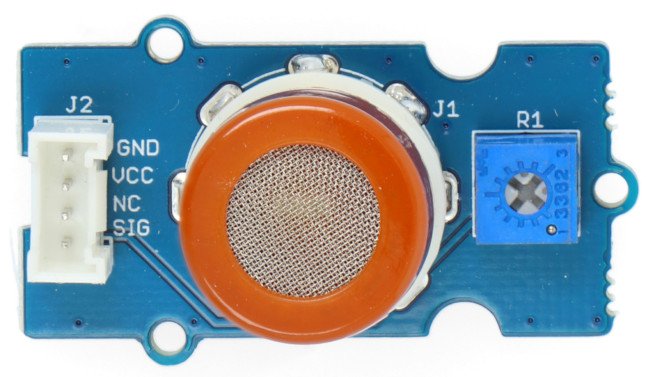 | Pin | Description |
| --- | --- |
| GND | The weight of the system. |
| VCC | The supply voltage is 5 V. |
| NC | Not connected. |
| SIG | Sensor output signal. |
Alcohol sensor specification - MQ3
Power supply voltage: 5 V
Potentiometer adjustment range: 1 MΩ

to 8 MΩ

Measurement range: 0.05 mg/L to 10

mg/L

Type: solid-state

Dimensions: 40 mm x

20 mm x 25 mm

Weight: 7,8 g
The kit includes:
Alcohol sensor - MQ3
Grove cable