Description: Grove - HCHO gas sensor - WSP21100 - semiconductor - analog.
The sensor is able to detectHCHOgases thanks to theWSP21100system, whose resistance changes with the growth of volatile organic compounds in the air. It is capable of detecting gases up to 1 ppm. It can be used to detect toluene, methanol, benzene, alcohol, acetone, etc. The module is equipped with a Grove connector for easy connection to the main circuit.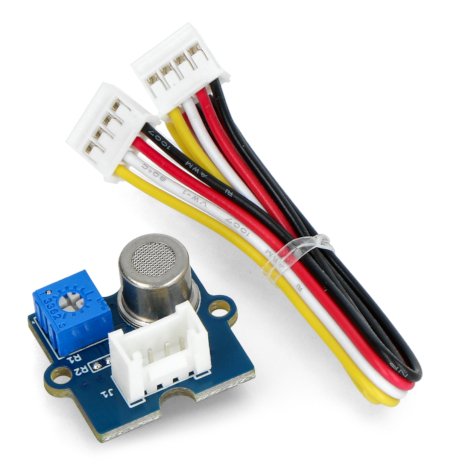 HCHO gas sensor, Grove cable is also included.
Arduino compatible product
The manufacturer providesa user guideshowing its connection and programming.

Carbon monoxide, coke oven gas and LPG sensor connection - MQ9
The sensor communicates viaan analog interface, thanks to the use of Grove connector it is possible to connect it directly to Arduinoand RaspberryusingGrove-Pi+ or Grove BaseShield.Due to the interface used for communication by the sensor, it is necessary to use a Grove-Pi+ overlayorADCtocommunicate with Raspberry.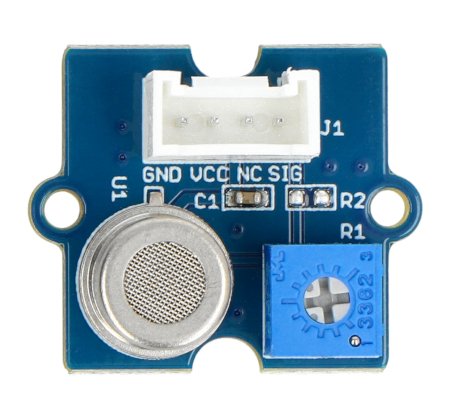 HCHO gas sensor.
| Pin | Description |
| --- | --- |
| GND | The weight of the system. |
| VCC | The supply voltage is 5 V. |
| NC | Not connected. |
| SIG | Sensor output signal. |
HCHO sensor specification
The tension of work: 5 V ± 0

,3 V

Gases detected: HCHO, Gasoline, Toluene, Alcohol

Type: solid-state

Concentration detection range: 1 to 50 ppm

Sensor resistance range: from 10 kΩto 100 kΩ (

for 10 ppm HCHO)

Sensitivity: RS (in air) / RS (10 ppm HCHO) ≥5