Product description: DC/AC step-up converter 12/24VDC / 230VAC 300/600W - automotive - Volt IPS-600 Duo.
TheIPS-600 Duo VoltConverter allows you to supply devices requiring 230 V AC powerfrombatteries and car systems with 12 V or 24 V DC. The device will work well in places where it is not possible to connect to the mains. It provides 300 Wcontinuous power and600 W instantaneous power.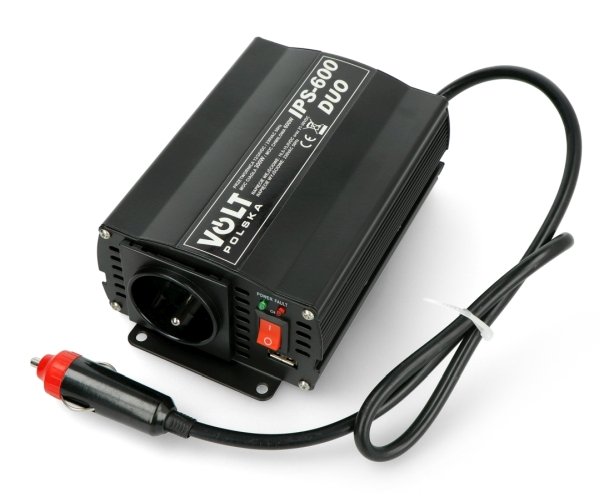 IPS-600 Duo Step-up Volt Converter.
At its output, the inverter producesa modified sine waveform, i.e. arectangularalternating voltage. The r.m.s. value of the waveform is identical to the r.m.s. value of the sinusoidal waveform occurring in the power grid. The inverter is equipped with anumber of protections, such as short circuit, thermal, under-voltage, over-voltage, overload. The efficiency of the Volt IPS 600 Duo inverter is92%.
Volt IPS-600 step-up converter specification
Battery voltage: 12 V or 24 V
Input voltage: 10.5 V to 31 V DC
Output voltage: 225 V to 235 V AC
Overload power (momentary): 600 W
Rated power (continuous): 300 W
Output voltage frequency: 50 Hz (+/- 2 Hz)
Efficiency at full load: 92%
Under-voltage protection tripping threshold: 10.7 V (0.3 V)
Operating temperature: -10°C to 40°C
USB socket: yes - 5 V
Cable with cigarette lighter plug
Security:

Short circuit protection
thermal - switches off the device after exceeding approx. 60°C - 70°C
Under-voltage: switches off the device when the input voltage is too low
over-voltage - switches off the device when the input voltage is too high
overload protection - switches off the device if it has been overloaded for more than a dozen seconds