Product description: RoboClaw 2 x 30 A USB V5E - two channel motor controller 34 V / 30 A - Pololu 3286
Two-channel controller DC motors. It uses microUSB port, UART TTL interface, analog signal or RC radio interface for communication. It is powered with voltage from 6 V to 34 V, maximum continuous current is 30 A and instantaneous current is 60 A. RoboClaw works with 5 V and 3.3 V logic (voltage is selected automatically), it can also be controlled using limit switches, push buttons, emergency stop switches, etc. The built-in BEC mode supports 5 V and 3 A. The V5E version has a plastic cover for the bottom of the board and a connector to connect a 5 V fan.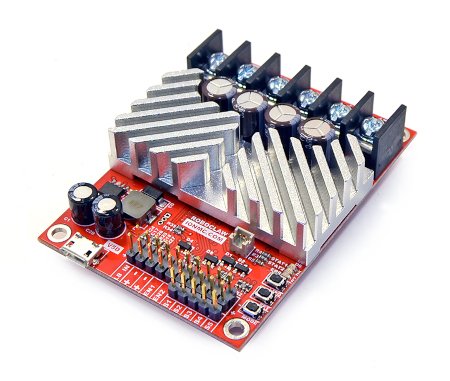 RoboClaw V5E two channel motor controller.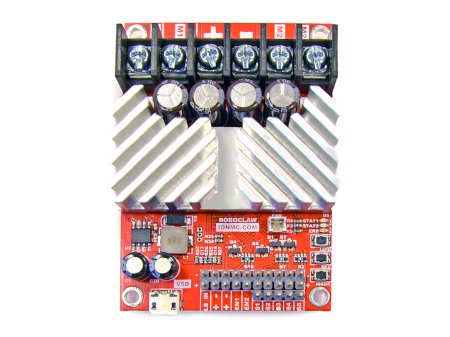 RoboClaw 2 x 30 A V5E controller.
Main features of RoboClaw controller
Supply voltage: from 6 V to 34 V
Continuous current per channel: up to 30 A
Channel instantaneous current: up to 60 A
Communication:

USB - emulated COM port - microUSB cable to be purchased separately.
UART serial interface - TTL
Signal from RC radio receiver
Analogue voltage from 0 V to 2 V (tolerates 5 V)

Feedback, e.g. to a PID loop:

Possibility to connect quadrature encoders with a resolution of up to 19.6 million pulses per second
Position control via analog encoders (potentiometers)
Possibility of operation without feedback, so called open loop control

Mounted screw terminal for easy connection
Configurable via built-in pushbuttons or USB
Possibility to switch on the BEC regulator using a jumper
Battery charge monitor, voltage cut-off at too low voltage
Board dimensions: 74 x 52 x 23 mm
Weight: 60 g
The manufacturer provides:
RoboClaw driver comparison
2x7A

2x15A

2x30A

2x45A

2x60A

Number of channels:

2

Voltage:

6 V to 34 V

Continuous current:
7,5 A
15 A
30 A
45 A
60 A
Instantaneous current:
15 A
30 A
60 A
60 A
120 A
5 V BEC current:
150 mA
3 A
3 A
3 A
3 A
Width:
42 mm
52 mm
52 mm
52 mm
86 mm
Length:
48 mm
74 mm
74 mm
74 mm
100 mm
Weight:
18 g
60 g
60 g
63 g
295 g