Product description: iNode Care Sensor 5 - motion sensor, accelerometer and magnetometer
iNode Care Sensor 5 is a wireless motion sensor, accelerometer and magnetometer (electronic compass) with a built-in recorder. Placed in the roadway it allows the detection and counting of moving vehicles. Allows detection of movement of objects to which it is attached such as doors, windows, containers with medicines. It also allows to determine the position relative to the ground plane.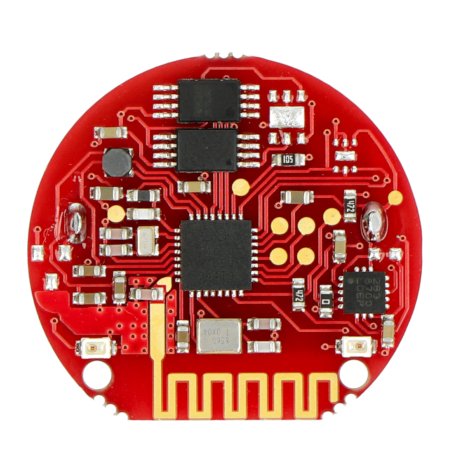 Status signaling
It has a function of signaling by LED being in the range of the scanning device. The status of the device (temperature and position) is sent on-line in a broadcast frame every 0.3 - 10 seconds and can be archived in the internal memory of the device. The device can cooperate with iNode Care Relay. The software allows you to configure the device to send an alarm, which will turn on/off the external device.

Software
Applications for ANDROID and WINDOWS. The iNodeSetup.exe configuration software runs on Windows with a Bluetooth adapter based on CSR's 8510 chipset or with an iNode Serial Transceiver USB, iNode LAN. Linux requires iNode Serial Transceiver USB and/or iNode LAN and e.g. Ubuntu with Wine. The latest firmware versions for iNode products are available at the support site: http://support.elsat.com.pl/ user: inode, no password.
Application
Vehicle detection
Traffic flow monitoring
Home automation
Alarm systems
Elderly care
Technical specifications iNode
Bluetooth: BLE - PC configurable

power: from -18 dBm to 8 dBm (maximum range up to 200 m in open space)
device name
accelerometer sensitivity
threshold temperature value causing the alarm
activation / deactivation of an alarm caused by movement or change of position
information archiving
logical network to which alarms are sent
user password
device access password - independent from the user password

Magnetic field sensor: FXOS8700

sensitivity: 1

μT to 1200 μT

type: 16 bit, 3-axis

Power supply: CR2032 battery - not included
Plastic housing
Dimensions: CR2032: Ø 32 mm x 9.5 mm;
Possibility of remote software replacement
Two LEDs
Motion sensor: 3 - axis accelerometer - 10 or 14 bit
Operating temperature: -30 °C to 65

°C

Temperature sensor with resolution: 1

°C

Humidity: 20 % to 80 % RGH
Chipset: CSR 101x
Weight: 5 g