Attention, the sale of the product is complete!
Orange Pi minicomputers have been withdrawn from sale due to the manufacturer's failure to provide appropriate certification. We encourage you to familiarize yourself withother devices available in our offer.
Description
Orange Pi version One mini-computer with powerful AlwinnerH3 quad-core ARM Cortex-A7processor.The board has512 MB ofDDR3RAMand10/100MbpsEthernet port,HDMIport and1x USB Host,1x microUSB OTG, 40 GPIO, microSD card slot. Works withUbuntu or Androidsystems.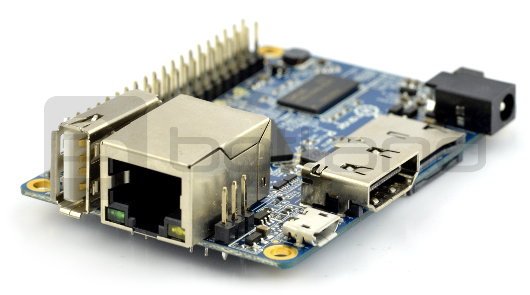 The device has 1 USB port, HDMI and Ethernet port and many others.
What do I need to run an Orange Pi minicomputer?
Operating system
Orange Pi works with Ubuntu and Android systems and systems known from Raspberry Pi. The device can be a microSD card with a capacity of up to 64 GB.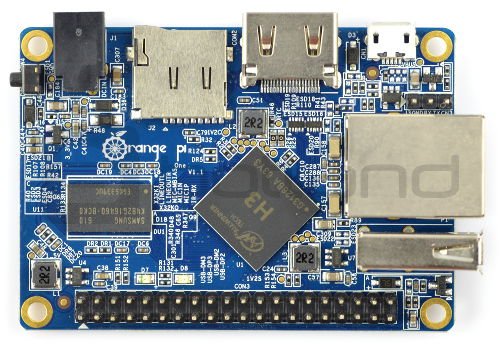 Orange Pi One - top view.

Communication
Orange Pi has basic communication interfaces, which can be found in PC-class office computers. In addition to the previously mentioned audio and video interfaces, the user has at his disposal:
one USB connector and one microUSB OTG socket,where you can connect e.g. a mouse, a keyboard, a WiFi card or a flash drive. If it turns out that there are too few sockets, you can increase their number usingan external USB HUB.
Ethernet socket, i.e. the possibility of direct connection to the LAN.
GPIO x 40 pin- general purpose outputs/inputs that can be used to operate LEDs, buttons, motor controllers. Among them there are pins supporting interfaces: I2C, SPI and UART.
microSD slot- slot for a microSD memory card, on which the operating system can be installed.
HDMI output- allows to output video and audio signal to the monitor.
CSI input- to connect a dedicated camera.
Power supply .
The system uses a 4.0/1.7 mm DC Jack connector as its power source. The manufacturer recommends that the voltage given on the connector should be 5.0 V, while the current capacity of the power supply used should be at least 2.0 A (the manufacturer recommends 3.0 A). In our offer you will find a dedicatedpower supply.
Specification
Basic information

Model
Specification

Processor

Allwinner H3

Allwinner H3

Allwinner H3

Allwinner H3

Core

Quad-Core

ARM Cortex A7

Quad-Core

ARM Cortex A7

Quad-Core

ARM Cortex A7

Quad-Core

ARM Cortex A7

Graphics

Mali400MP2

GPU @600MHz

OpenGL ES 2.0

Mali400MP2

GPU @600MHz

OpenGL ES 2.0

Mali400MP2

GPU @600MHz

OpenGL ES 2.0

Mali400MP2

GPU @600MHz

OpenGL ES 2.0

Systems

Ubuntu

Android

Ubuntu

Android

Ubuntu

Android 4.4

Ubuntu

Android 4.4

Memory

RAM

512 MB DDR3

SDRAM

512 MB DDR3

SDRAM

1 GB DDR3

SDRAM

2 GB DDR3

SDRAM

Memory

microSD card

up to 64 GB

microSD card

up to 64 GB

microSD card

up to 64 GB

+8 GB EMMC

microSD card

up to 64 GB

+16 GB EMMC

Node

GPIO

40-pin connector

+ 3 pin UART

40-pin connector

+ 3 pin UART

40-pin connector

+ 3 pin UART

40-pin link

+ 3 pin UART

Power supply

5 V / 2 A

(3A recommended)

DC Jack

5 V / 2 A

(3A recommended)

DC Jack

5 V / 2 A

(3A recommended)

DC Jack

5 V / 2 A

(3A recommended)

DC Jack

Buttons

Power

Power

Power

Power

UBoot

IR input

Dimensions

69x48mm

69x48mm

85x55mm

108x67mm
Interfaces
USB Host

1 x USB 2.0

socket type A

2 x USB 2.0

socket type A

3 x USB 2.0

socket type A

3 x USB 2.0

socket type A

USB OTG

1x microUSB

1x microUSB

1x microUSB

1x microUSB

Interface

network

Ethernet

10/100 Mbit/s

-

Ethernet

10/100 Mbit/s

Ethernet

1000 Mbit/s

Module

WiFi


-

Embedded

Realtek

aerial

Embedded

Realtek

aerial

Embedded

Realtek

RTL8189ETV

aerial

Video

HDMI,

HDMI CEC,

CVBS

HDMI,

HDMI CEC,

CVBS

HDMI,

HDMI CEC,

CVBS

DMI,

HDMI CEC,

CVBS

HDMI and CVBS

Audio

HDMI

HDMI

HDMI

3.5 mm jack

microphone

HDMI

3.5 mm jack

microphone

Interfaces

UART, GPIO

UART, GPIO

UART, GPIO

UART, GPIO