Description of Test set, tester of electronic elements THT and SMD - BTE-057
Test set for testing and recognition electronic components such as bipolar transistors PNP, NPN, MOS transistors with channel P and N, and LEDs. Built-in screen allows you to view the characteristic values for the element. The device allows for testing of models THT and SMD.
The tester is assembled and ready to use immediately after purchase. Does not require soldering.
The meter is a simple but practical tool usefulin any electronics workshop. Its operation is very simple. When measuring, the capacitors should pay attention to the measured item, so that it is not discharged. The design of the meter is simplified, so the measurement error is not always the same as in expensive, professional tools.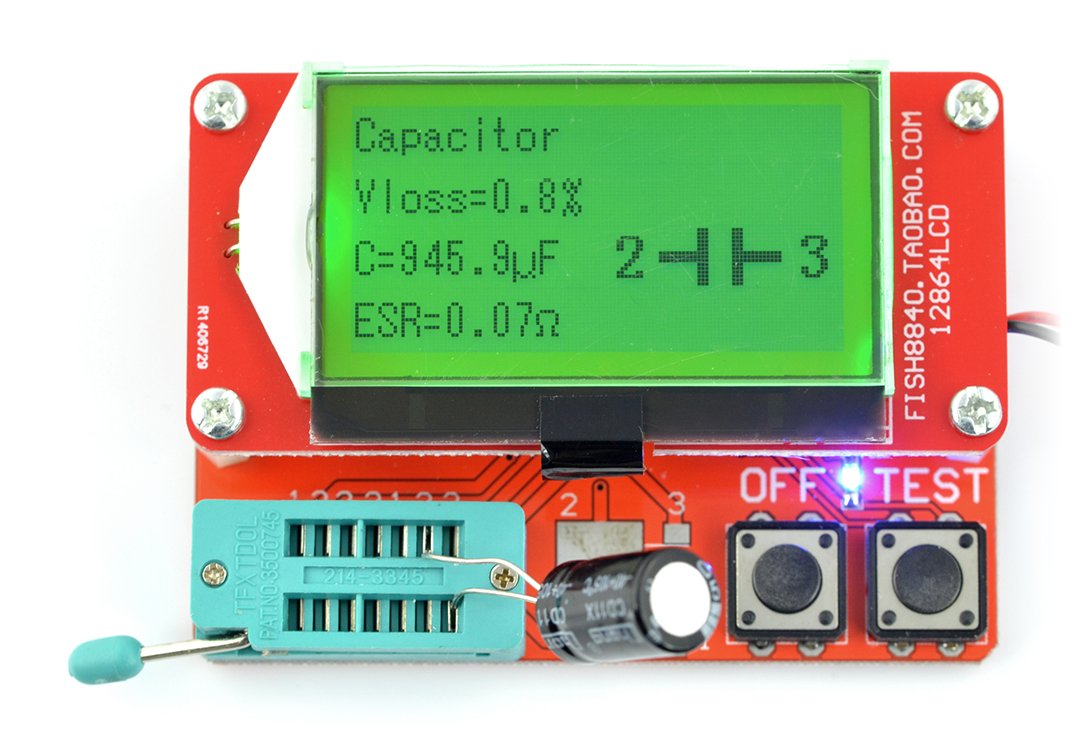 Set for testing various electronic components.
Specification: Test set, tester of electronic elements THT and SMD - BTE-057
Test set for electronic components
LCD display 128x64 pixels to display the values of the measured elements
Stand ZIF-14 to test the THT elements
Contact pads for testing of SMD elements
Automatic determination of the gain current (B)
Button TEST to run the test
Button OFF: turns off the machine
Power supply:9V battery 6F22(not included)
Measurement speed: approx. 2 to 10 sec
In the case of large capacitors, the test can last 1 min
One-button testing
Automatic shut-off
PCB sizes: 71 x 63 mm
Ranges
Capacitance: 30 PF to 100 MF (resolution 1 PF)
Measurement of the ESR coefficient for a capacity greater than 2 µf
Inductance: 0.01 mH to 20 H
Resistance: 0.10 Ohms to 50 megohms
Transistor tester PNP / NPN, measuring beta h21e
The measurement of MOS transistors with channel P and N
Measurement of triaks / thyristors
Uf diodes to 4.5 V
15736