Description: Solar lamp with dusk and motion sensor 2x20 LED
Solar lamp for indoor and outdoor use. Switches on automatically when motion is detected for30 seconds, thanks to the built-in motion sensor on the front, as well as when darkened.The sensor has a range of 5 metres.Thelampis equipped with a solar panel that powers 218650 3.7 V batteries (included) for about 8 hours and issufficient for 12 hours of operation.It can be installed in houses, gardens, gazebos, garages.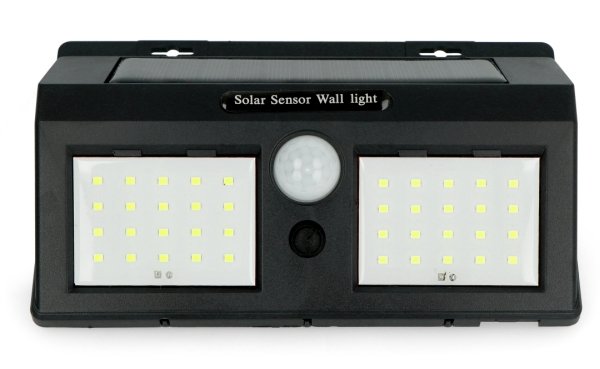 Solar lamp with dusk and motion sensor 2x20 LED.
The set includes
Solar lamp 2 x 20 LED

2 x mounting studs
2 x screws
Operating instructions
Specifications of the solar lamp
Lamp type: solar
Application: external / internal lighting
Number of LEDs: 2 panels x 20 LED
Brightness: 800 lm
Wind resistance: IP64
Resistance to heat
Battery: 2 x Li-Ion18650 1200 mAh 3.7 V
Power supply: sunlight
Charging time: 8 h
1 charge = 12 hours of operation
Motion sensor
Blackout sensor
Motion sensor range: 5 m
Twilight sensor activation level: below 10 Lux
Lighting time: 30 s
The angle of light: 120°
On/Off switch: Yes
Illuminated area: approx. 20 m²
Dimensions: 195 x 120 x 45 mm
Weight: 0,25 kg
Motion and twilight sensor lamp
Universal solar lamp in 2x20 LED system is designed for lighting installations indoors and outdoors (e.g. gardens). A built-in motion sensor allows for contact-free switching of the lamp and a twilight sensor switches the lamp on and off, adjusting its light to the level of darkness in the immediate vicinity. The lamp is powered by two 3.7 V batteries charged by a built-in photovoltaic mini-panel. Thanks to this, the lamp with a twilight sensor can shine continuously for up to 12 hours.The kit includes a solar lamp, two batteries, mounting elements and an operating manual.
Dual LED solar lamp - excellent illumination even in adverse environmental conditions
The double solar LED lamp has a number of practical advantages. Thanks to the built-in lithium-ion battery charged by its own photovoltaic panel, the lamp can function independently of the mains electricity supply compared to conventional receivers. The lamp can be used both as indoor and outdoor lighting.The design of the casing in accordance with the requirements of internal protection IP64, allows the lamp to be used in dusty and humid environments, even during heavy rainfall.
Set contents:
1x solar lamp 2x20 LED with dusk and motion sensor
2x Li-Ion 18650 battery 3.7 V 1200 mAh
2x wall-mounted dowel
2x mounting screw