Product description: Pi-Blox enclosure for Raspberry Pi 4B - black - Multicomp Pro MP001209
HousingforRaspberry Pi 4Bminicomputer produced byMulticomp Pro.Pi-Bloxseries model can be combined with other cases of this type due toLEGOsystem. Made ofABSmaterial inblackcolour, it protects the minicomputer module from mechanical damage. The external dimensions of the enclosure are88 x 64 x 30,6 mm.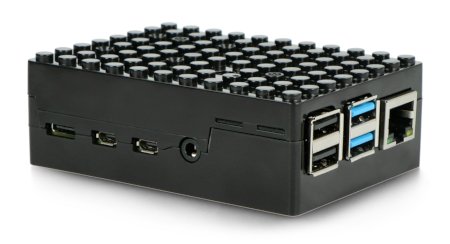 The Pi-Blox case forRaspberry Pi 4Bhas holes that give access to all pins of the minicomputer.
Technical Specifications
Housing for:Raspberry Pi 4B
Series: Pi-Blox
Can be combined based on LEGO system
Two-piece snap-on enclosure
Housing material: ABS
Colour: black
External dimensions: 88 x 64 x 31 mm