Product description: Housing for HiFiBerry DAC+/ADC and Raspberry Pi 4B - steel - black - HiFiBerry 4260439550712
Housingdesigned forRaspberry Pi 4Bminicomputer andHiFiBerryDAC+,DAC+ ADC andDAC2overlays. Made of high qualitymetal, protects components placed inside from mechanical damage. Provided with cut-outs giving the access to all module connectors. It also containsventilation holesplaced in upper part of the case, whichhelp to cooldown the case and improve air circulation. The subject of the sale is an enclosure in black color, produced by HiFiBerry, with external dimensions of110 x 90 x 70 mm.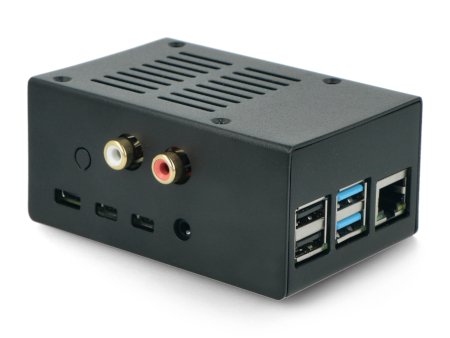 Housing for Raspberry Pi 4B minicomputer and HiFiBerry overlays. Kit doesn't includeminicomputerand caps, you can buy them separately in our shop.
Technical specification of the case
Compatible with:
Construction material: metal
Colour: black
External dimensions: 110 x 90 x 70 mm
Weight: 210 g
Contents of the kit
Two-piece housing
Copper spacer - 4 pcs.
Screws - 12 pcs.
Anti-slip washers - 4 pcs.