Attention!
The product has been discontinued. Check other products in category.
Product description: Revolution Pi RevPi Compact 8GB eMMC - PLC module
RevPi Compact is an open source industrial controller based onRaspberry Pi Compute Module 3+with 1GB RAM and8GB eMMC memory. It features a BroadcomBCM2837B0 ARM Cortex-A53 Quad-Coreprocessor clocked at 1.2 GHz. The open platform provides access to therootlevel, which gives the user the freedom to create their own projects. TheRevPiCompact is equipped with 8 digital and analog inputs and 8 digital and two 2 analog outputs, 2 Ethernet interfaces, and a 4-pin screw connector for theRS485interface. It is enclosed in a DIN rail mounted housing. The module is programmed in the NodeRED environment in Python or C. It can also be controlled in professional PLC and SCADA software.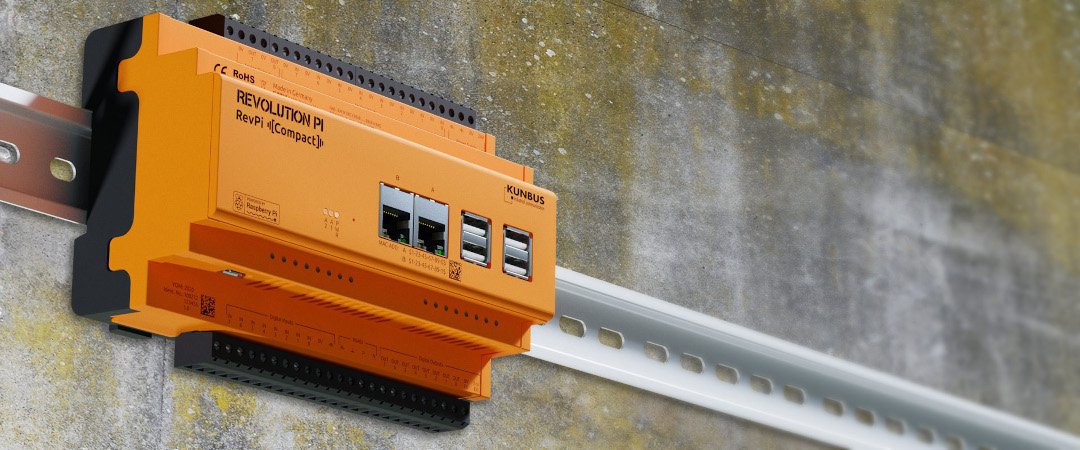 Revoltuion Pi RevPi Compact.
A large number of integrated I/O interfaces
The RevPi Compact, unlike other RevPi modules, is not modular.All interfaces are built into the board, so there is no need to connect additional modules. It is equipped with many analog and digital inputs and outputs for connecting sensors or other actuators. It has8 analogue inputs (from 0 V to 10 V) and2 analogue outputs(from 0 V to 10 V), as well as8 digital inputs and outputs. The device is also equipped withRS485interface. Inputs and outputs are connected toscrewterminals located on the top and bottom of the device.
Simultaneous operation in two networks
The device is equipped withtwo Ethernet interfaces, which allow simultaneous connection to two networks at the same time. For example,sensordata from an OT network can be transferred from the shop to RevPi Compact viaModbus TCPand sent on to the cloud or an IT system usingMQTTorOPC UA.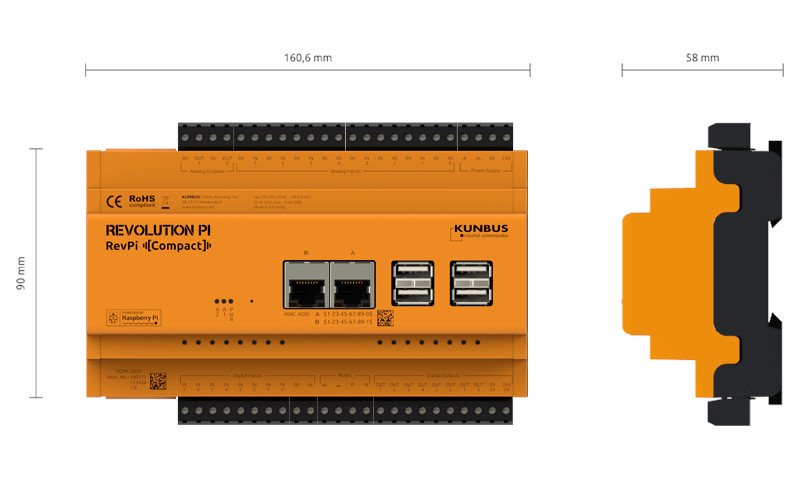 Dimensions of RevPi Compact.
RevPi Connect meets industrial requirements
One of the main goals of the Revolution Pi was to give the Raspberry Pi the ability to become a true compact control system. That's why the RevPi Compact features a DIN rail-mounted enclosure and an industrial 24 V power supply design and complies with EN 61131-2.
Power supply: 24 V DC (from 10.8 V to 28.8 V)
Operation temperature: from -20°C to 55°C
EMC interference emission: according to EN 61000-6-4
EMC immunity: in accordance with EN 61000-6-2
Raspberry Pi vs Revolution Pi
The Raspberry Pi Foundation has created an inexpensive boardfor educational purposeswith the small size and interfaces found in standard PCs. The Revolution Pi modules were based on the Raspberry Pi Compute Module board, for which Kunbus created an evaluation board, creating a controller with the same specifications as classicPLCs. Revolution Pi was created forindustrialapplications with the possibility of expanding its capabilities through modules with IO interfaces and communication modules.
RevPi Compact specification
Processor
Broadcom BMC2837B0 Quad-Core ARM Cortex-A53
Clocking
1.2 GHz
RAM
1 GB
EMMC memory
8 GB
Supply voltage
24 V (from 10.8 V to 28.8 V)
Max. power consumption
20 W (including 10 W USB)
Operating temperature
from -20°C to 55°C
Storage temperature
-40°C to 85°C
Operating humidity
93%
Degree of protection
IP20
EMC interference emission
4 kV / 8 kV
EMI test
according to EN 61000-6-4
EMC immunity
according to EN 61000-6-2
Conformity to
CE, RoHS
Dimensions
111 x 22.5 x 96 mm
Interfaces
2x Ethernet RJ45 10/100 Mb/s
4x USB 2.0
1x HDMI
1x microUSB

8x digital inputs

Input threshold: at 24 V DC compatible with type I and II sensors according to EN 61131-2.

8x digital outputs

top with 10 kΩ resistor, short-circuit proof, potential separation circuit / digital outputs. Max. load 500 mA / 24 V per output (resistive load). Sum of all outputs max. 2 A / 24 V (resistive load).

8x analog inputs

0 V to 10 V, 16-bit with PiControl, 21-bit primary value, software switchable current source 2.5 mA.

2x analogue outputs

0 V to 10 V, short-circuit proof, reverse current protection, 8-bit resolution, 1% accuracy, max. current load 10 mA (10 V DC at 1kΩ).

1x RS485 max. 500 kbps, software switchable termination (not galvanically isolated).