Product description: Arduino Braccio ++ - robot arm - Arduino T050002
Arduino Braccio ++ is the next generation Braccio robot arm. The arm is specially designed for higher education , including engineering schools, universities, institutes of technology or advanced high school students and students in science, industry or technology.
Arduino Braccio ++ has been fully optimized and can be mounted in a variety of applications such as moving objects, mounting a camera and tracking movements, or mounting a solar panel on it and tracking sunlight.
Students learn how to apply physical concepts to everyday life by picking up, placing and rotating objects. These concepts include motion, force, torque, transmission, stability, and mass.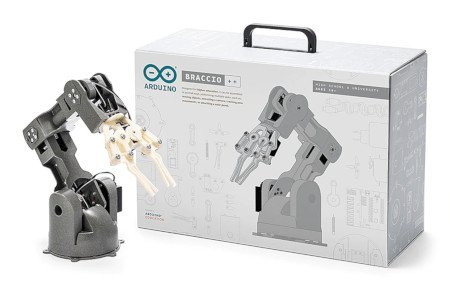 Robot arm Arduino Braccio ++.
Robot arm Arduino Braccio ++
The Braccio Carrier motherboard controlling the arm is based on the Arduino Nano RP2040 Connect with an RS485 interface and an LCD screen, and equipped with completely new RS485 servos. This type of motor and communication configuration conforms to industry standards.
The main material used to build the Arduino Braccio ++ is ecoAllene eco-friendly plastic made from recycled polylaminate found in food cartons, which means that all of Arduino Braccio ++ 's plastic components are 100% recyclable . As EcoAllene is recycled, the color of the components may vary.
The kit includes an e-learning platform with step-by-step instructions, lessons and other educational materials. The content includes projects and lessons on using and testing various pieces of equipment (including display, joystick, buttons and smart motors) and kinematics, dynamics touched on at the university. For secondary schools, it also includes computer-integrated production.
What are the differences between Tinkerkit Braccio and Arduino Braccio ++?
New motherboard with RS485 serial communication, LCD screen and joystick
The kit includes an Arduino board
Classic servomotors have been replaced with new, intelligent Arduino motors
USB C port for powering the motherboard with motors
Eco-friendly recycled materials (EcoAllene) instead of ABS
Larger plywood base for mounting Arduino Braccio ++
New, dedicated teaching materials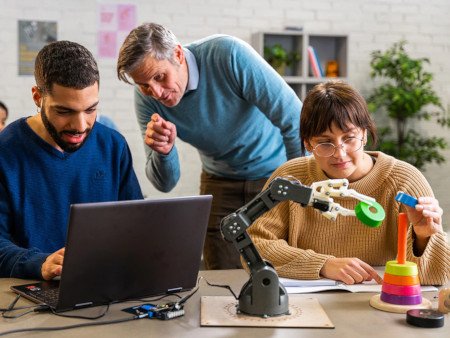 Using Arduino Braccio ++.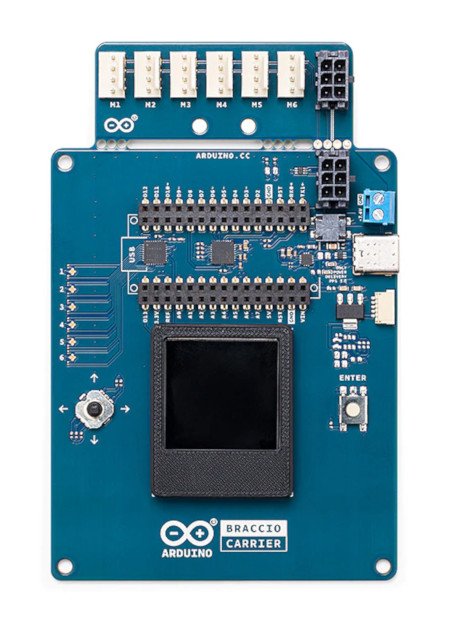 Arduino Braccio Carrier motherboard for robot arm.
Main features of the Arduino Braccio ++ robot arm
Support for intelligent automation. The industrial standard RS232 and RS485 / 422 supported by Arduino Braccio Carrier, enables the implementation of intelligent IoT automation in a wide range of projects.
Support for up to six engines. Up to six servos can be connected to the Arduino Carrier board.
LCD games option. The combination of a mini joystick with a motherboard integrated with an efficient Arduino board will allow you to implement really exciting projects.
The manufacturer has prepared a library to support the Arduino Braccio ++ arm.
Kit contents
Arduino Braccio Carrier main board
Arduino Nano RP2040 Connect
USB A - USB type C cable
USB A - microUSB cable
USB Type-C - USB Type-C cable
Power supply with adapters
4x large servo
2x small servo
Connecting cable
Fitting elements
Design elements made of EcoAllene
Screwdriver
The base is made of plywood
E-learning platform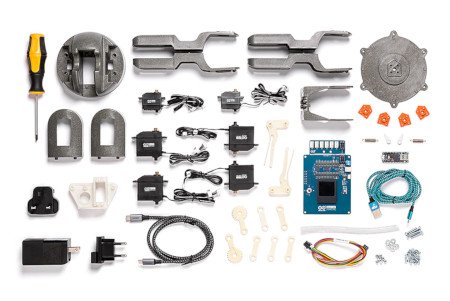 Arduino Braccio ++ kit contents.
Specification of the robot arm Arduino Braccio ++
Main tile
Arduino Braccio Carrier
Compatibility
Arduino Nano series (including Nano RP2040 Connect)
Display
AX133T-IF05
Joystick
Switronic IT-1501-G
Programmable digital I / O (24 V logic)
12
USB port for programming
Amphenol USB Type-C
CAN-BUS interface
RS485 communication protocol
Programmable serial ports
RS232 communication protocol
Supply voltage
7.4V
USB Type-C
yes (used for power supply)
6x motor / servo connectors
Adam Equipment LHA-04-TS
2x motor / servo connector
Molex 44914-0601
Dimensions
122 x 78.5 mm
Mass
54 g
‌