Description
Amplifier of the size of Raspberry Pi Zero, connecting your speakers of 4 Ω or 8 Ω to 3 W, to any of the Raspberry, using the GPIO connector 2 x 20. Not suitable for Raspberry with connectors 2 x 13. Shield is using the I2S standard. The digital data is transmitted directly to the amplifier so it does not have interferences which can be heard using the headphone Jack.
Pins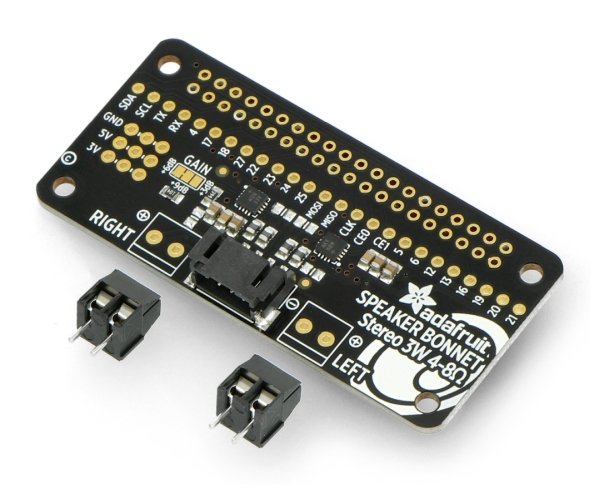 Detailed description of the pins can be found at this link.
Hat features:
2 ARK 3.5 mm connectors that allow you to connect speakers. (requires soldering)
4-pin JST connector to connect a set of speakers.
GPIO connector 2 x 20 to connect to the Raspberry.
Setting
To configure the device you need to connect any speakers of 4Ω or 8 Ω to 3 W, run the setup script and then reset the board.
The installation script
curl -sS https://raw.githubusercontent.com/adafruit/Raspberry-Pi-Installer-Scripts/master/i2samp.sh | bash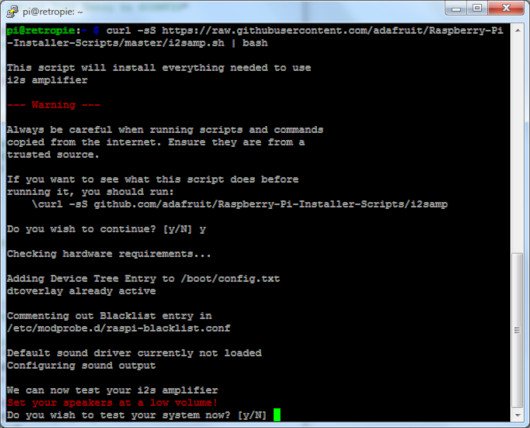 In case of any problems with the installation, detailed description can be found at this link.
Specification
Compatible with any Raspberry with the pins of 2 x 20
Standard digital I2S
It works with any speakers of 

4Ω or 8 Ω to 3 W

Connectors
Easy setup

Dimensions: 65 x 30 x 7.2 mm

Weight: 7,4 g