Product description: Shelly Plus 1PM - 1x relay AC 110-240V, DC 24-240V, WiFi 16A - power metering
Ready relay module to control home devices of 110-240 V AC or 24-240 V DC about the power consumption of the device <1 via the wi-fi network using app on mobile devices from anywhere in the world.In order to use Shelly1PM, it is sufficient to configure the device via web browser.The device also allows for the measurement of consumed by the device, energy, it also has abuilt-in temperature sensor which prevents overheating of the module.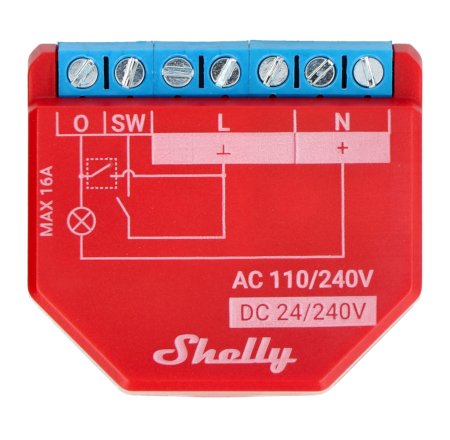 The device has screw connectors for mountingthe wires, the compact size allows to close the module in the junction box.
Shelly 1PM can be controlled viavoice commandsusing a voice assistant, such as: Amazon AlexaorGoogle Home.
Connection diagram of the Shelly 1PM module
Before connecting, switch off the voltage in a powered circuit.A driver must be installed in a place protected from the external conditions, protected from access of the third parties.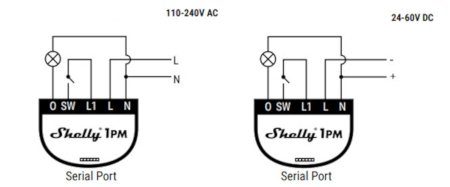 The module has six pins in the form of screw connectors, to which connected  can be the wires using a screwdriver:
On- exit with zero potential
L1 / L- Power supply of 230 V AC (24 V to 60 V DC) positive pole.
SW- input of the relay controlling the O output
Debugging port
Configuration of the Shelly 1PM module
To configure, you need to connect to a wireless network device called "shellyswitch-xxxxxx" where "xxxxxx" is the serial number of the device,then use the Android Play orthe AppStore to download the Shelly application. To prestage devices, you must click in the default name of the device.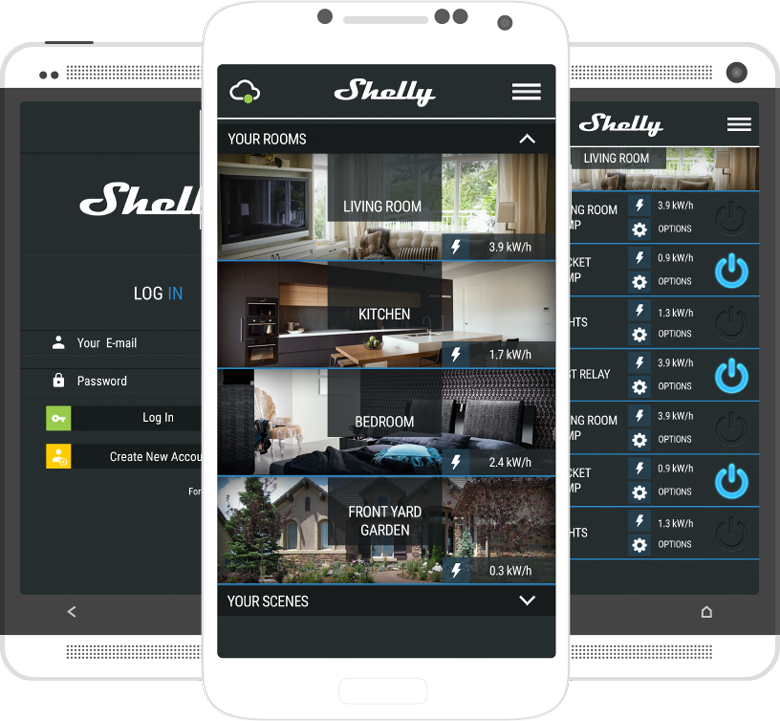 The configuration can be done via the website, for this you need to connect to a wireless network of the the device, then just launch the Internet browser and enter the IP address of the device:http://192.168.33.1.The configuration website will appear where you must select your home wi-fi network and enter the access password.
Specification of Shelly 1PM
Supply voltage:

from 110 V to 240 V AC
24 V to 60 V DC

Energy consumption: up to 1 W
Number of outputs: 1
The type of control outputs: relay
Load current consumption: up to 16A
Load power: up to 3500 W
Open API
Connector for software updates
Number of inputs: 1
Communication standard: 802.11 b / g / n
Operating temperature: 0 °C to 40 °C
A measurement of the energy consumed by the device
Overheat protection - a temperature sensor
Compatible devices: iPhone, iPad, iPad Mini, Android, computers and mobile devices that support HTML5, Amazon, Alexa, Google Home
Dimensions: 41 x 36 x 16 mm