Product description: Shelly i3 - wireless WiFi button
A smallWiFimodule, which allows you to control other Shelly modulesusingthe previously connected wall buttons. Thanks to its small size, the device can be locked in an electrical box. It has3 inputsto connect buttons that support different sequences of clicks. It also allows to remotely control the status of Shelly devices. The module is poweredfrom 110 V to 240 V AC or 24 V to 60 V DC.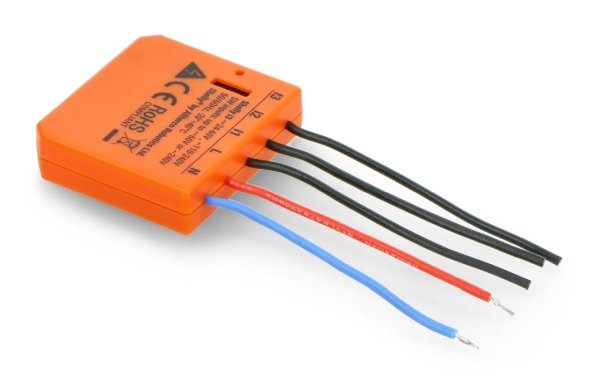 Shelly i3 - wireless WiFi button.
Main features of Shelly i3
Wireless communication - no additional HUB required, connects directly to your home WiFi network.
Power supply - Shelly i3 is compatible with all power standards. From 110 V to 240 V AC or 24 V to 60 V DC.
3 inputs - has three inputs to connect buttons. You can create scenes in the Shelly Cloud application and control them all.
Multi-click support - up to 24 possible actions. Control the lighting, cover the blinds or open the door. Control any device or scene.
Remote control - control the light at home no matter where you are. You will never leave the light on again.
Wide compatibility - Shelly i3 is compatible with Android, iOS, Amazon Alexa, Google Assistant and automation systems using MQTT, CoAP and REST API.
Many actions
Shelly i3 supports up to 8 different actions for one button. The buttons can control different devices directly or through scenes in the cloud. One click can turn the light on or off, a double click can turn the fan on or off, a long press activates the scene. The possibilities are endless.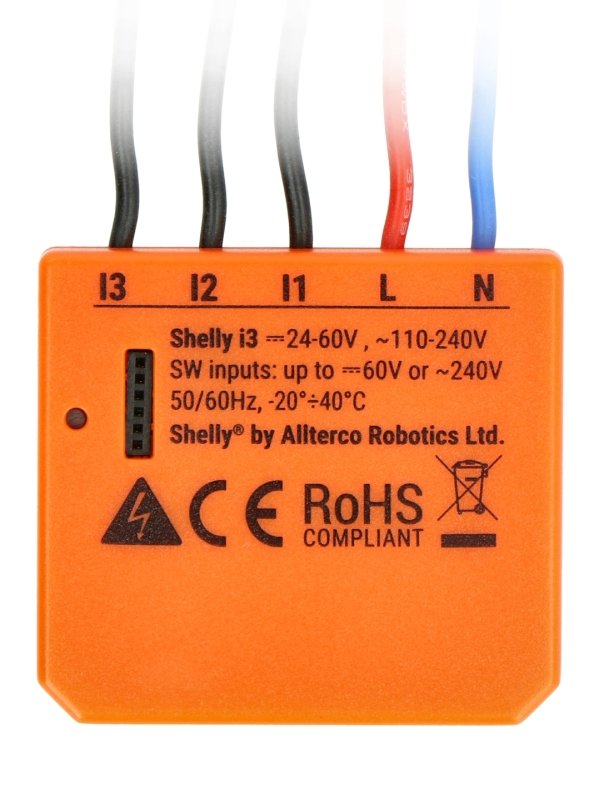 Shelly i3.
Connecting Shelly i3
Before installing the unit, make sure that the circuit is disconnected from the power supply. For proper operation of the module, connect the monostable buttons to I1 / I2 / I3 inputs. The module should be mounted in a place protected against external conditions, protected against access by third parties.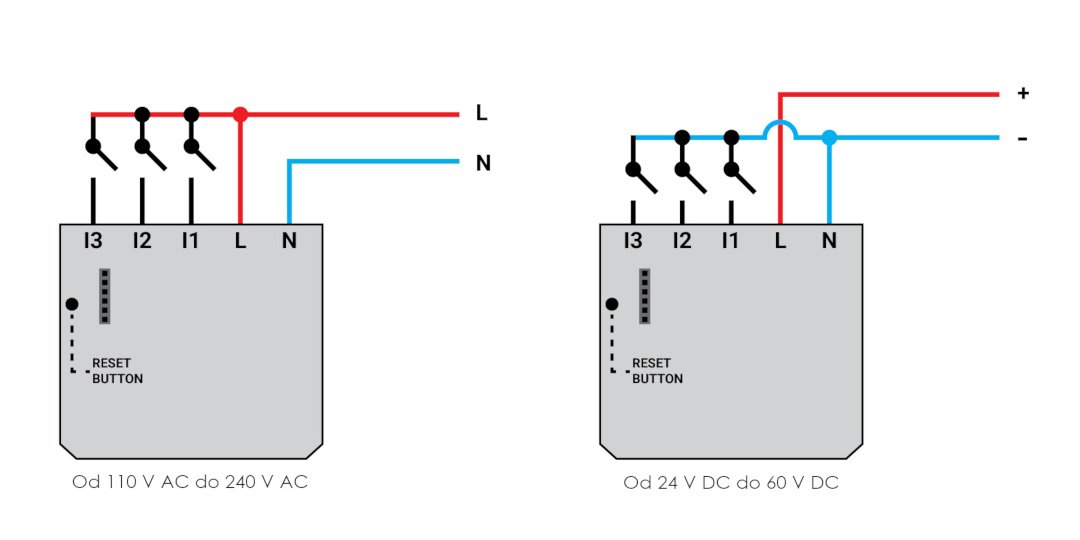 Wiring diagram.
The module has five outputs in the form of screw terminals, to which wires can be connected with a screwdriver:
I1 / I2 / I3- inputs for button connection
L- power supply from 110 V to 240 V AC or 24 V to 60 V DC - positive pole
N- power supply - negative pole
Debugging port
Shelly i3 module specifications
Supply voltage: 110 V to 230 V AC or 24 V to 60 V DC
Current consumption: up to 1 W
Number of channels: 3
2.4 GHz WiFi communication 802.11 b/g/n
Signal power: 1 mW
Range: up to 50 m outside, up to 30 m inside
Compatible switches: monostable (momentary/bell)
Operating temperature: -40°C to 40°C
Dimensions: 40 x 36 x 10 mm