Product description: LOGO! Soft Comfort V8.3 - Software for PLC - Single user license - Siemens 6ED1058-0BA08-0YA1
LOGO! Soft Comfort V8.3 is the latest software for LOGO! PLCs fromSiemens.It allows you to create and simulate projects with documentation. The drag&drop system makes program creation very simple and intuitive. There are 43 function block savailable, which provide great programming flexibility. The software is supplied on DVD and licensed for one workstation.
Main features of LOGO! Soft Comfort
Easy operation in single mode and very simple configuration in network mode
Intuitive program creation and configuration of many functions
Automatic configuration of communication and display in network view
Up to three programs can be displayed side by side with drag and drop blocks
Simple way to drag signals from one program to another
Easy migration from previous program versions
Software on DVD with license for one workstation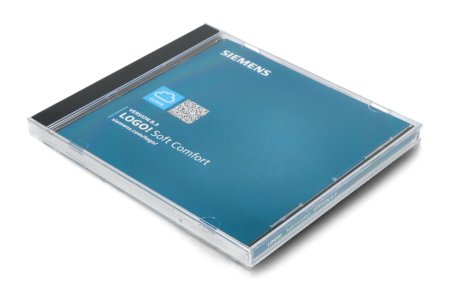 LOGO! Soft Comfort V8.3 software
The LOGO! Soft Comfort PLC software
LOGO! Soft Comfort meanseasy and quick configuration. The software allows you to create user programs by selecting the appropriate functions and linking them viadrag & drop.Up to 16 nodescan be displayed in the network view. It is also possible to displayup to three programs side by side. In network mode, you can easily drag signals from one program to another using drag&drop (drag & drop). Offline programming as well as simulation and testing is possible on the PC, so that programming of the modules is possible under all conditions. Short setup times are achieved through the ability to createyour own macro blockswith frequently recurring program parts. Context-sensitive online help is also offered in online mode. LOGO! Soft Comfort providesprofessional documentationwith all the necessary project information such as program switching, comments and parameter settings.
LOGO! Soft Comfort specification
Number of licenses
1
Number of supported languages
6
Supported operating systems
Windows XP, 7, 8, 10 (32- and 64-bit), Mac OSx 10.7 Lion, Mac OSx El Capitan, Linux Suse 11.3, SP3, K 3.0.76
Media
DVD