Product description: LOGO! 8 12/24RCEO - Ethernet PLC - Siemens 6ED1052-2MD08-0BA11
The LOGO! 8.3 12/24RCEOPLChas been produced by theSiemenscompany. The module has anEthernetinterface with the TDE-based web server and an integrated Modbus TCP/IP protocol. TheLOGO! 12/24RCEOPLC operates with a voltage of12 V or 24 Vand has8 digital inputsand4 digital / relay outputswith a maximum load capacity of 10 A. The controller allows the use of 400 function blocks. LOGO! is the ideal choice for fast, uncomplicated and space-saving solutions for control and regulation tasks.
What is a PLC?
PLC (Programmable Logic Controller) is a microprocessor-based device designed for controlling any kind of equipment and machines. Such controllers are used primarily in industrial automation, but also in all kinds of building automation. The controller must be matched to a specific control object. One of the most popular PLCs is the SiemensLOGO!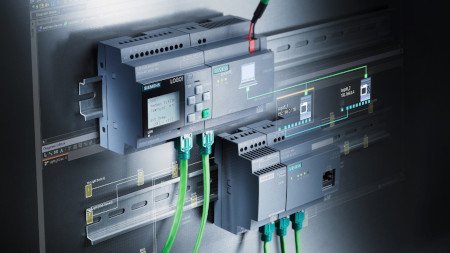 PLCs Siemens LOGO!
PLCs Siemens LOGO!
Siemens LOGO! PLCs are ideal for simple automation tasks in industry and all building services.The modular design ofLOGO! PLCs makes them easy to install. The wide range of modules makes it possible to create configurations tailored to your needs.
LOGO!
The manufacturer has introducedready-to-use functionssuch as on/off delay, weekly clock, pulse generator, astronomical clock, yearly clock, stopwatch, etc. More than40 functionsare available and programs can contain up to400 blocks. LOGO! users can program their own macro functions and create libraries of tested sub-functions.
How do I program a PLC?
Siemens LOGO! PLCs and PLC expansion modules can be coded and configured with the manufacturer's softwareLOGO! Soft Comfort V8,which is included on the DVD. With it you can easily and user-friendly program LOGO! PLCs of the Siemens brand. You can create user programs by selecting the appropriate functions and connecting them bydrag&drop.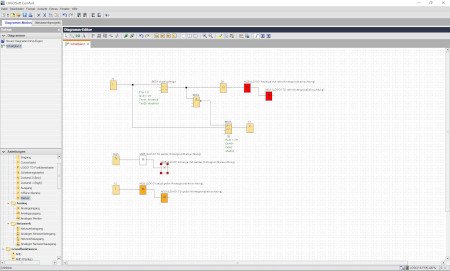 LOGO Soft Comfort V8 program interface
LOGO! 12/24RCEO PLC specification
Supply voltage
12 V or 24 V
Number of blocks
400
Number of digital inputs
8
Number of digital outputs / relays
4
Short-circuit protection
no
Maximum inductive load
3 A
Maximum resistive load
10 A
Working temperature
from -20°C to 55°C
Storage temperature
from -40°C to 70°C
Protection class
IP20
Interface
Ethernet
Mounting
DIN 35 mm
Dimensions
71,5 x 90 x 60 mm