Product description:MW Power Switch Mode Power EB2412, 12 V / 2 A - 5.5 / 2.1 mm DC plug
TheEB2412switchmodepower supplyby MW Power is designed to power LED lighting as well as electronicdeviceswith a 5.5 / 2.1 mm DC plug socket, whoseDCvoltage is 12 V, maximum output current 2 Aandpower 24 W. A built-in electronic protection unit effectively protects the secondary circuit against short circuits and overloads and ensures a quick return to normal operation after eliminating the cause of interference. The design of the power supply enables it to operate in a wide range of operating environment temperatures and is resistant to mains voltage fluctuations. It does not interfere with other consumers powered from the same circuit.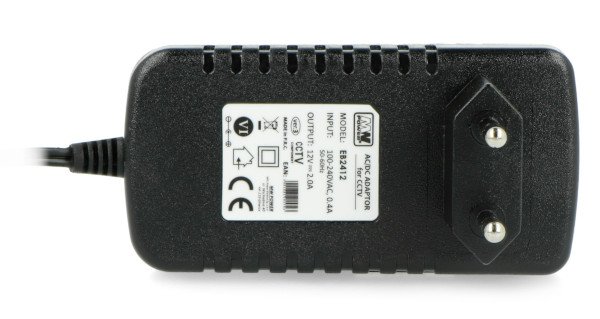 MW Power EB2412 12 V / 2 A Switch Mode Power Supply - 5.5 / 2.1 mm DC plug.
Technical data of the Switch Mode Power Supply
Power supply design: impulse

Output voltage: 12 V

Current capacity: 2 A

Maximum output power: 24 W

Maximum output voltage deviation: ± 5%

Mains voltage range: 100 V AC to 240 V AC

Mains current consumption: 0,4 A

Mains voltage frequency range: 50 Hz to 60 Hz

Efficiency: 83%

Power at rest: < 0,3 W

Cable length: 1,5 m

Plug: DC 5.5 / 2.1 mm

Short-circuit protection: yes

Overload protection: yes

Thermal protection: yes

Protective class: II

Operating temperature: -5°C to 40°C

Dimensions: 85 x 43 x 69 mm

Weight: 0,1 kg