Product description: ESP-EYE - image and speech recognition - 2 MPx, WiFi ESP32 camera.
TheESP-EYEdevelopment board is used for image detection and recognition as well as speech signal processing. ESP-EYE has a built-inESP32chip and is equipped with a2 MPxcamera that can detect and recognize a face, digital microphone, 4 MB flash memory,8 MB PSRAM.It is powered by5 Vthrough a 0.2 m microUSB cable (included).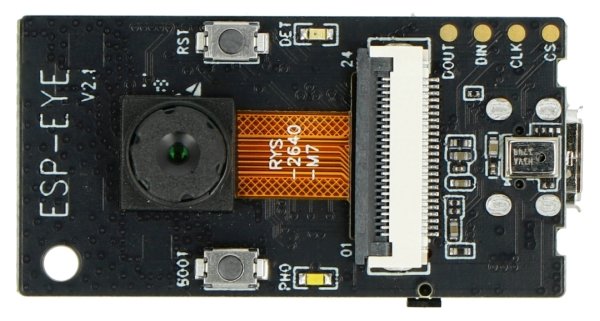 ESP-EYE - image and speech recognition - 2MPx, WiFi ESP32 camera.
Main product features
Built-in ESP32 chip
Face detection and recognition, image recognition
Supports WiFi video transmission
Power supply and debugging via microUSB
Compatible with Windows and Raspberry Pi
Product compatible with RaspberryPi.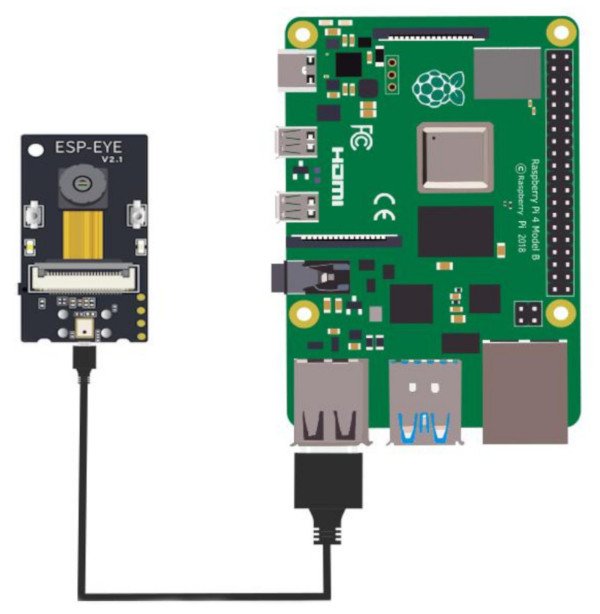 ESP-EYE connection with Raspberry Pi 4B.
The ESP-EYE board also supports WiFi and debugging with a microUSB cable.
SPI Port Outputs
DOUT- data output
DIN- data input
CLK- serial clock
CS- chip select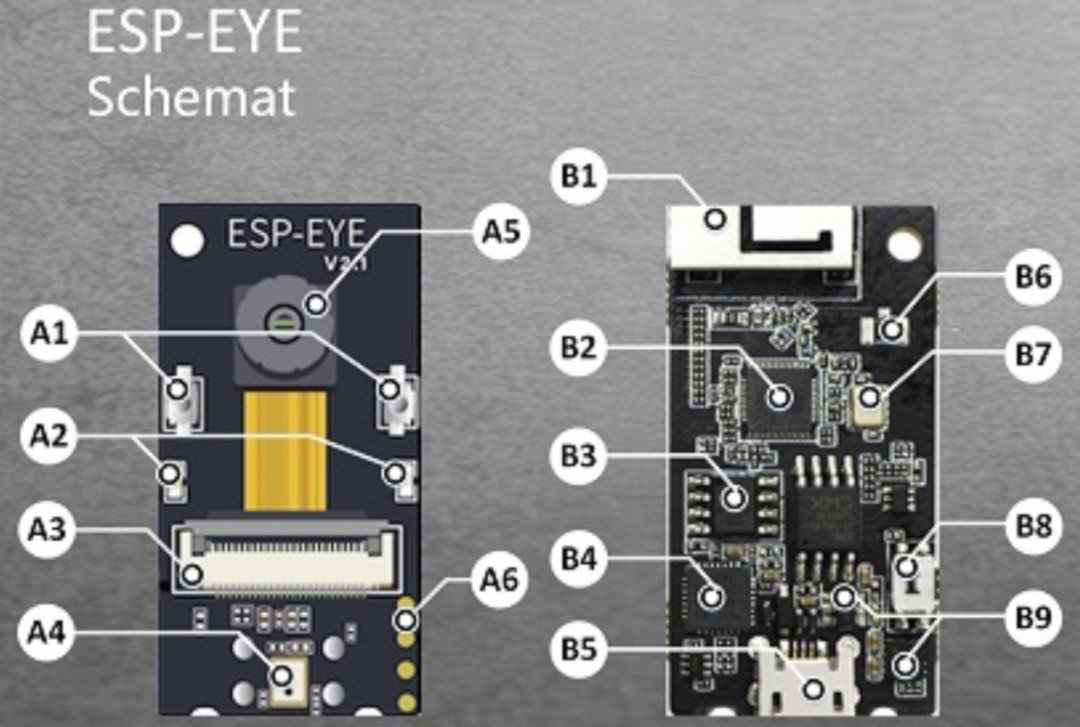 A1-top buttons
A2-LEDs (white and red as ESP-EYE indicators)
A3-camera (2 MPx face detection, recognition and registration module)
A4-camera connector (used to connect an external camera)
A5-MiC (digital microphone for voice control)
A6-SPI interface (port for data transmission)
B1-3D_PIFA antenna (IPEX antenna can be selected with R14 resistor and 3D antenna with R15 resistor)
B2-ESP32
B3-PSRAM (application storage memory)
B4-USB to UART connection (converts USB to UART signals)
B5-USB port (provides power for the entire system)
B6-IPEX connector (used to connect an external IPEX antenna)
B7-Quartz oscillator (connects the clock to ESP32)
B8-side key (function keys)
B9-LDO power supply (provides the required power supply for ESP32, camera and LED indicators)
Face detection
After starting ESP-EYE, click the side button to identify the face. A message will be displayed on the website: Start registration. The user should be facing the camera. The exact course of installation is available on themanufacturer's Wiki.
ESP-WHO- is a programming platform for face detection and designed for AIoT application. It can be used with ESP-EYE board or other boards based on ESP32.
ESP-IDF- is a programming platform for IoT applications.
Included
ESP-EYE developmental plate
MicroUSB cable (0.2 m)
ESP-EYE specification
Microcontroller: ESP32 series
Power supply voltage: 5 V
Working voltage: 3,3 V
Operating current: 0,5 A
Power supply / debugging: microUSB
Port: SPI
Flash memory: 4 MB
PSRAM memory: 8 MB
Framework: ESP-WHO Al
Software: SD-ESP-IDF
The camera: 2 MPx
Camera function: Face detection and recognition
Upper button: touch reset button
Microphone: digital microphone for voice control
Total output current: 1200 mA
Operating temperature: -40°C to 125°C
Dimensions: 41 x 21 x 6.5 mm