Specification
Resolution: 200 steps/rev (1.8°)
Rated voltage: 12 V
Current consumption per coil: 0,31 A
Coil resistance 38.5 Ω
Winding inductance: 21 mH
Holding torque 1.6 kg*cm (0.15 Nm)
Leads: unipolar (six wires)
Shaft diameter: 5 mm
Weight: 220 g
Standard: NEMA 17
Dimensions: 42 x 42 x 34 mm (without shaft)
Technical drawing and detailed data are available in the documentation.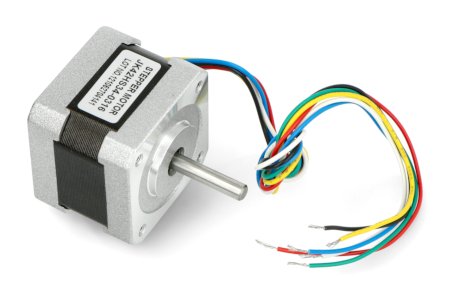 Stepper motor 42HS34-0316 200 steps/rev 12 V / 0,31 A / 0,15 Nm.
Product description: 42HS34-0316 stepper motor 200 steps/rev 12 V / 0,31 A / 0,15 Nm
A unipolarstepper motor with six leads. It has a resolution of 200 steps per revolution (1.8 deg). It is powered by 12 V and draws 310 mA current per coil. The torque is 1.6 kg*cm (0.15Nm). Dimensions are 42 x 42 x 34 mm (NEMA 17).
Accessories
There are also accessories available in our shop to make stepper motors easier to use:
Stepper motordriver - simple to use, small modules allowing to control direction, speed and resolution. We have also prepared instructions for connecting different types of stepper motors.
Applications of stepper motors:
printers
CNC devices
3D printers
laser devices
manipulators