Description: 10'' VESA LCD/LED TV holder - 27'' VESA 15 kg ART AR-82 - vertical and horizontal adjustment.
Easy-to-installwall-mountbracketforTVs andmonitorsthat weigh less than 15 kg. It allows vertical and horizontal adjustment. It is compatible with devices with diagonalsfrom 10'' to 27''. The product complies with the VESA standard. TheARTAR-82 has an additional organizer that allows you to organizethe cablescomfortably.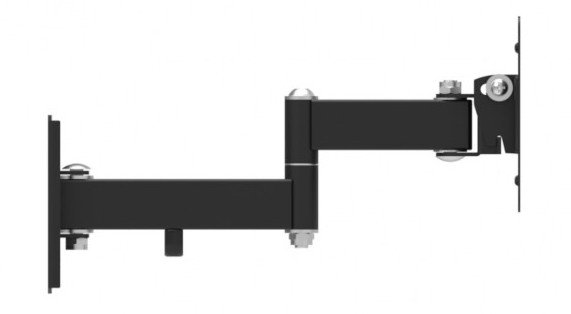 The ART AR-82 is a holder for a 10'' to 27'' VESA 15 kg VESA LCD/LED TV.
Specification of the ART AR-82 bracket
The producer:
ART
The manufacturer's symbol:
AR-82
Application:
installation of an LCD/LED/PLAZMA TV
VESA standard:

Yes

Maximum spacing of holes for the handle:

75 mm x 75 mm

100 mm x 100 mm

The size of a TV:
from 10" to 27"
Maximum load:
15 kg
Vertical adjustment (inclined):
from -5° to +15°
Horizontal adjustment (rotation):
180°
Fixing to the wall:

Yes

Distance from the wall:
from 59 mm to 280 mm
Corner handle:
not
Wiring organizer:
Yeah. (cable tidying handle)
The material of the workmanship:
metal
The way of painting:
powder coating:
The color:
black
Handle dimensions:
110 x 110 x 59 mm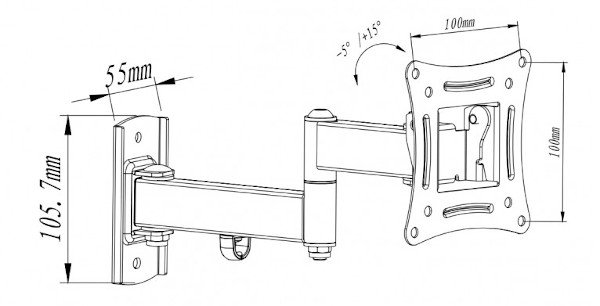 Dimensions of the ART AR-82 handle.
Set contents
ART AR-82 10'' - 27'' VESA handle 15 kg

Mounting screw set