Description
Multimeter can measure voltage DC and AC up to 500 V, the speed of flow of direct current up to 200 mA, and resistance up to 2000 ohms. The device has a measuring function, an audio signal, the measurement of LEDs and exceeding range.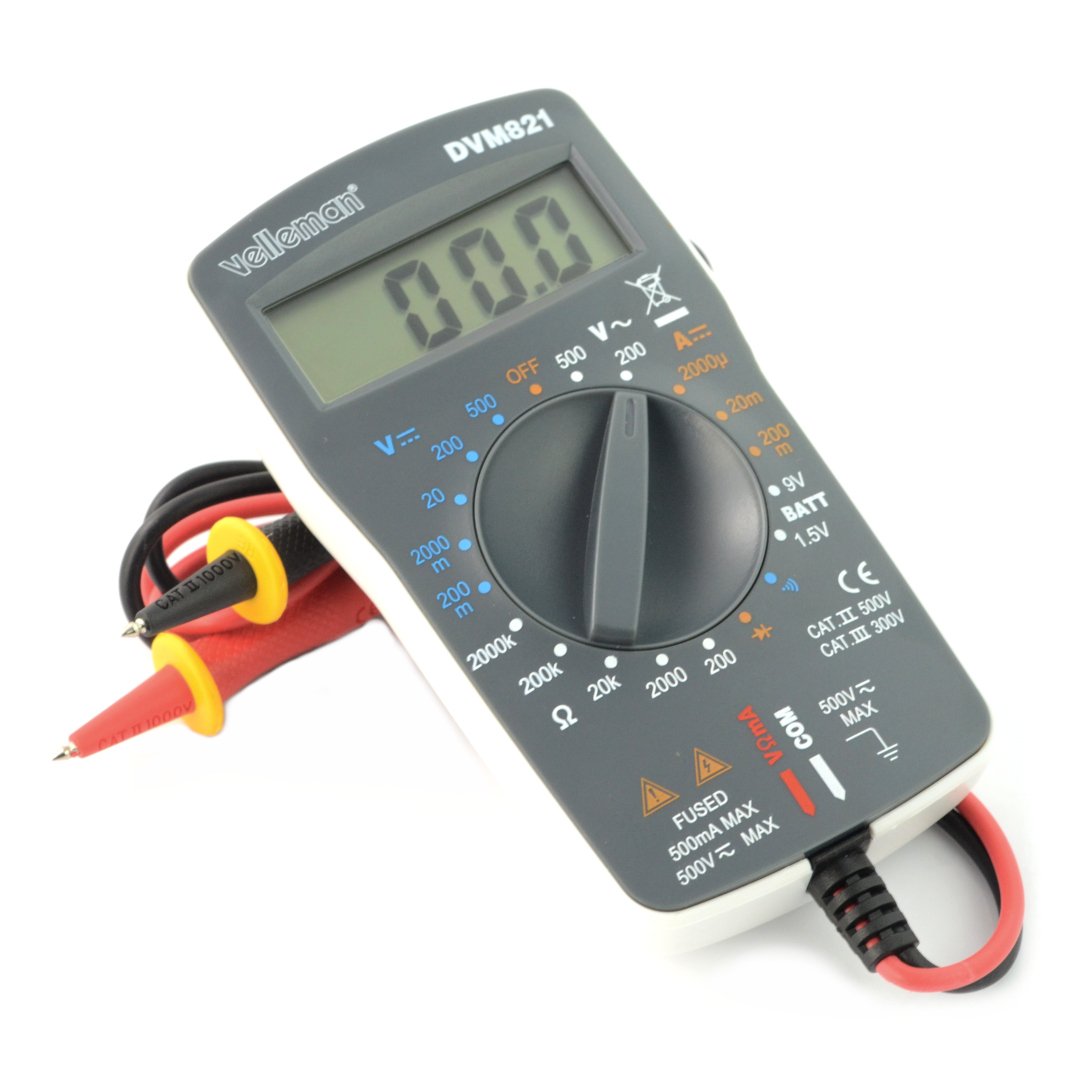 The meter is powered by the popularbatteries 2 x 1,5 V AAAincluded in the package. The battery discharge is displayed on the digital indicator. Everything is enclosed in a protected, original box.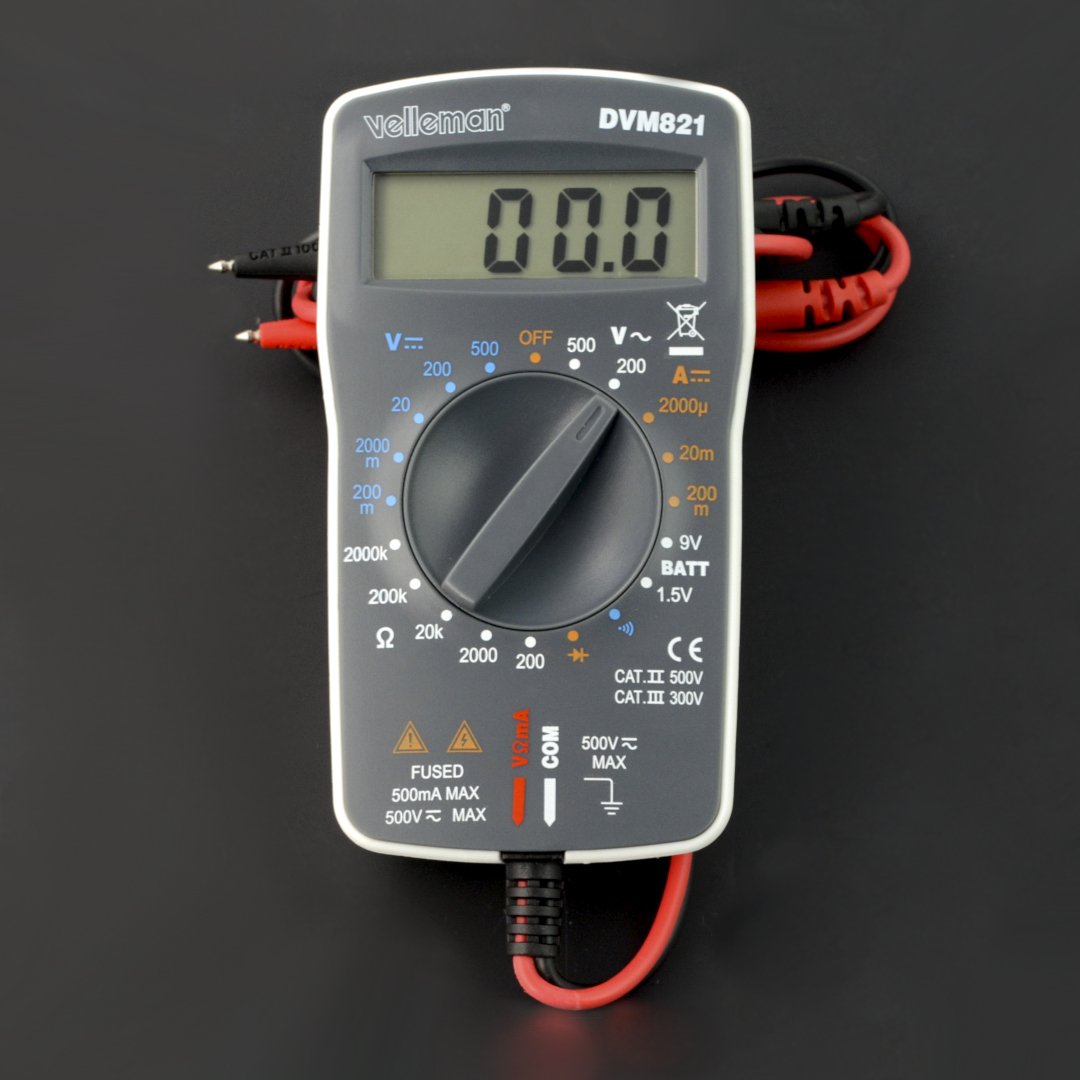 Features
CAT II 500 V / CAT III 300V

19 ranges

automatic polarity indication

automatic reset

measuring voltage: 500 V AC and 500 V DC. CURRENT (max.)

measure current: DC 0.5 A (max.)

measuring resistance: 2 mω

with permanently connected test leads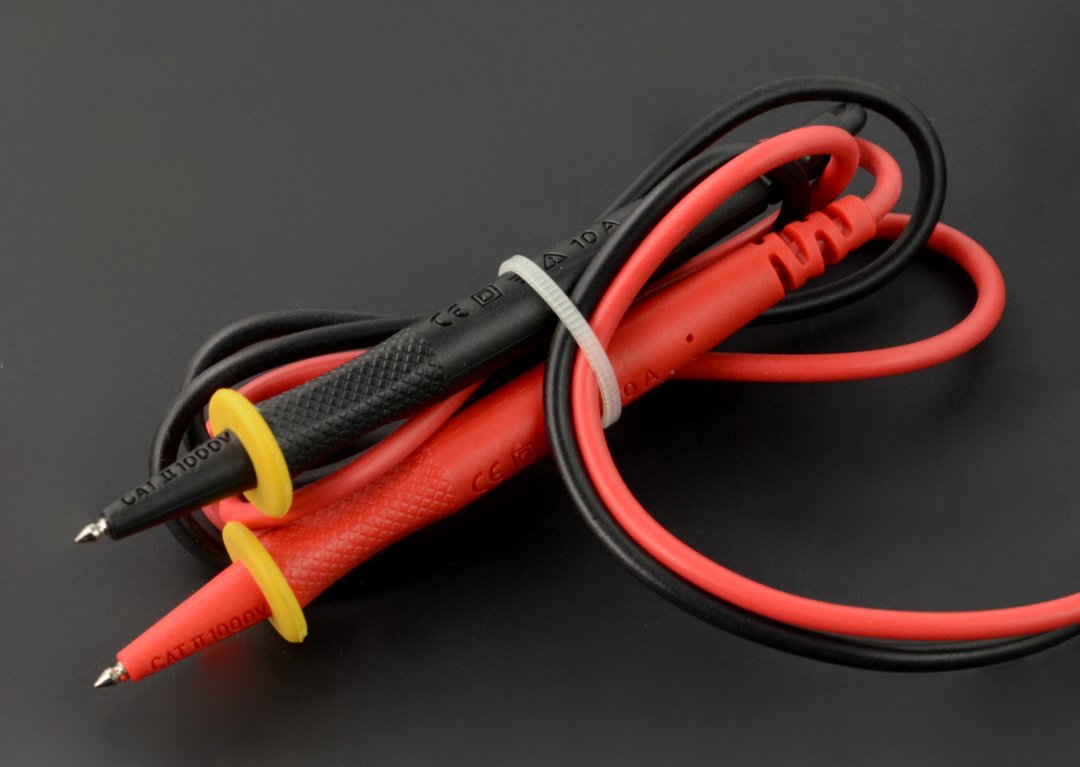 Set includes
Multimeter Velleman DVM 821.
Test leads.
Battery 2 x 1.5 V AAA
English and Polish manual
Warranty: 24 months.
Technical specification
Option
Range
DC voltage
200 mV / 2 V / 20 V / 200 V / 500 V
AC voltage
200 V / 500 V
DC
2000 µa / 20 mA / 200 mA
AC
not
Resistance
200 Ohm / 2 kOhm / 20 kOhm / 200 k

Ω

/ 2000 ohms
Battery tester
yes

Continuity measurement
yes, if the resistance is below

50 Ohm built-in buzzer beeps



Diode Tester

yes
Warning sound
yes
Exceeding of the range
yes
Battery indicator
yes
Display
LCD (47 x 15 mm) not more than 1999 characters
The maximum display value

3 ½

Mode selector
manual
Transistor tester
not

memorization of data

no

Backlight

no

automatic shut-off

no

Dimensions

118 x 65 x 30 mm

Weight ( with battery)

100 g

Power supply
battery 2 x 1.5 V

R03P

(included)

Fuse

F 0.5 A / 600 V, 5 x 20 mm (without a replacement)

Terms of use

temperature: 0 °C to 40 °C

humidity: < 80% RH

Storage conditions

temperature:-20°C - 60°C

humidity:< 90% RH

Probe

CAT II 100 V / CAT III 600 V, 10A, L = 70 cm (wired)