Product description: uGo LOA BR100 Bluetooth 4.0 USB nano adapter class II
The uGo nano USBadapteris a compact Bluetooth device that allows you to wirelessly connect your device to your laptop or computer. It is powered by5 V. It communicates with devicesup toa distance of20 m. The module supports Windows 7, 8, Vista, XP, 10 operating systems. With the adapter, you can efficiently connect wireless devices such as mouse, keyboard, tablet or favorite headphones with your computer or TV. TheBluetooth 4.0version used in the uGo module allows for fast data transfer between devices, without any interference or delays. Receiver supportsPlug & Play with Windows 8, 10. Inthe case of Windows 7, XP, Vista, to connect wireless devices with the receiver you need to install the drivers, which are included in the set on the supplied board.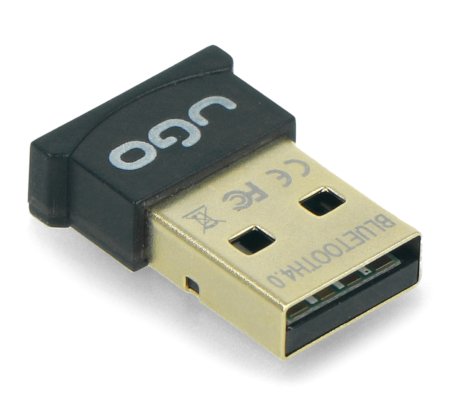 Bluetooth Module 4.0 USB nano uGo LOA BR100 class II.
Module specifications
Communication: Bluetooth
Bluetooth version: 4.0
Connector: USB type A
USB version: 2.0
Range: 20 m
Voltage: 5 V
Plug&Play only with Windows 8, 10
Supported operating systems: Windows 7, 8, Vista, XP, 10
Dimensions: 22 x 16 x 6 mm
Set contents
Bluetooth 4.0 USB nano uGo LOA BR100
Driver board