Attention!
The product has been discontinued. Check other products in category.
Description
A digital proximity sensor which is doing the measures with the Time of Flight method. It works in the range of up to 1000 mm. It communicates with the I2C interface. It is working with the voltage from 3 V to 5 V.
Method of time-of-flight is to measure the time from emitting a pulse from an infrared laser until its return to the detector. It doesn't depend on the reflection of light from the object.
Pins
On the board are 6 pins for self-assembly of connectors of goldpin type - pitch of 2.54 mm (included). In addition, 2 STEMMA QT connectors are also placed on the board.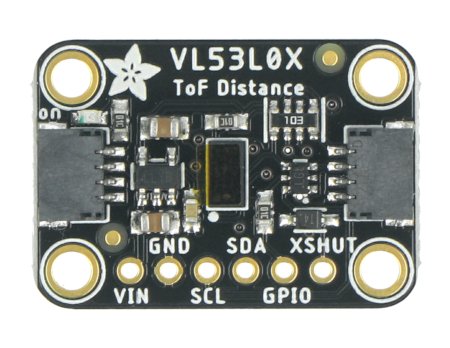 Name

Description

VIN
powered with voltage of 3 V to 5 V

GND

The ground of the system.

SDA


I2C data line.

SCL

I2C clock line.

XSHUT

The Pin disabling the module actived with the low status.

Low status switches the sensor into standby mode. Details inthe documentation.

GPIO1

Programmable interrupt output.
Specification
Supply voltage: 3 V to 5 V
Measuring range: from 30 mm to 1000 mm (at white reflective surface from 1.5 m to 2 m)
Interface: I2C
Dimensions: 25 x 18 x 4 mm
Weight: 1.3 g
Included is goldpin strap