Attention!
The product has been discontinued. Check other products in category.
Product Description: Zhaoxin AC-603D 60 V 3 A laboratory power supply
Stabilizedlaboratory power supplywith stepless regulation of AC voltage from0 to 60 Vand current from0 to 3 A. Equipped with two potentiometers for output voltage adjustment:CORASE- coarse voltage adjustment andFINE- fine voltage adjustment. The values are presented on an easy-to-read digitaldisplay.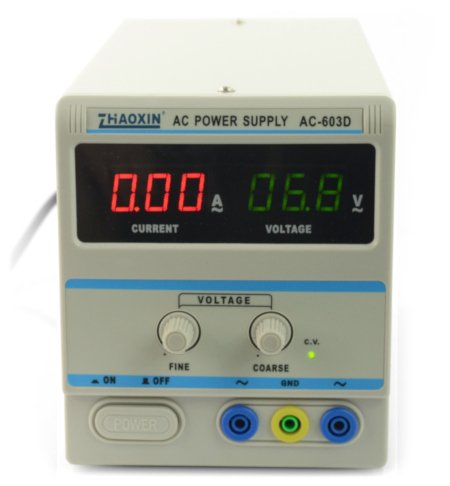 The PSU has a possibility of coarse and fine adjustment of voltage and current limitation.
Main features of the PSU
Regulations:

Floating adjustment of output voltage within the rangefrom 0 V to 60 V AC
Smooth output current adjustment within the range from0 A to 3 A
Current capacity up to 3 A
Simultaneous reading of output voltage and current on the display
Voltmeter: 3.5 digit LCD display with0.1 Vresolution
Ammeter: 3.5 digit LCD display with0.01 Aresolution
Galvanic isolationbetween primary and secondary side of transformer
Technical specification Zhaoxin AC-603D
Supply voltage: 230 V / 50 Hz (mains)
Built-in digital display
Adjustment: coarse and fine (voltage and current limit)
Adjustment with step: 0,2 V
Potentiometers for output voltage adjustment:

CORASE: coarse voltage adjustment
FINE: Fine voltage adjustment

Output connectors: 4 mm banana jack
Galvanic isolation
External dimensions: 278 x 126 x 154 mm
Set contents
Zhaoxin AC-603D lab power supply
Power cord