Attention!
The product has been discontinued. Check other products in category.
Description
The module based on the system Atmel SAMD21 SoC with moduleGSM SARAU201 designed for IoT projects. Equipped With A Cortex-M0+. Has 8 digital inputs/outputs, 12 channels of PWM (e.g. for motor control) and 7 analog inputs with a resolution of 8 / 10 / 12 bit. The module also has 10-bit analog DAC output and the clock RTC. The system works with the signal ticking with the frequency of 48 MHz. Leads operate at voltage of 3.3 V. The module can be powered with batteryLi-Pol 3.7 V 1S of at least 1500 mAh, through themicroUSB or Vin connector. In the latter case, the manufacturer recommends to use a power source with parameters of 5 V / 2 A.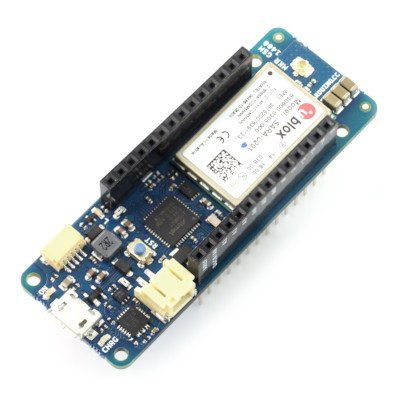 The subject of the sale is the original product for Arduino, Botland isthe official distributor of this company.
Key features
Below are a few features that distinguish modules Arduino compared to other programmable tiles.
Name
Description

Installed

bootloader

Thanks to bootloader for programming the device, sufficient are micro usb cableandthe software from the manufacturer's website.

Small

size

This version is characterized by small size: 67 x 25 mm. It has soldered male connectors

 from the bottom 

and female 

connectors

 on the top.

Connection

GSM


Arduino GSM MD 1400 has a built-in GSM module operating in the bands GSM 850 MHz E-GSM 1900 MHz / DCS 1800 MHz / PCS 1900 MHz built-in antenna 2 dB.

Digital leads

8 digital inputs/outputs allow i.a. the control of LEDs, relays and the reading of the buttons' states.

Current efficiency

The maximum current efficiency for one output is 7 mA.

Outputs

PWM


12 outputs PWM allow, for example, to control the motors and the brightness control of the LEDs.

Analog inputs

7 inputs of built-in

analog to digital 

converter with a resolution of 12-bits, support, i.a. sensors with analog output.

Serial communication

The device supports popular communication interfaces, i.a. UART, I2C and SPI.

Built-in memory

Chip

Atmel

SAMD21 is a signal at a frequency of 48 MHz, has 256 KB of Flash memory and 32 KB RAM SRAM.

Power 5 V


microUSB / battery 3.7 V

To power the Arduino, you can usea power sourcewith a voltage of 5 V with a microUSB connector and batteryLi-Pol 1S 3.7 Vwith a capacity of at least 1500 mAh.

Charging the batteries Li-Pol

The module has the function to power batteries with voltage up to 4.2 V.

Built-in led

The connected led on pin 6, allows debugging simple programs.
First run
Manufacturer provides a user manualfor easy connection of the device.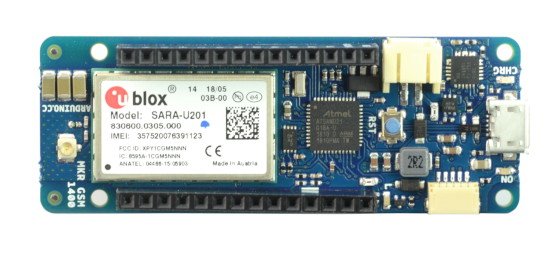 Specification
Voltage from 3.7 V to 5 V
ChipAtmel

SAMD21

Core: Cortex-M0+
Maximum clock frequency: 48 MHz
SRAM: 32 KB
Flash memory: 256 KB
I/O ports: 8
PWM outputs: 12
Number of analog inputs: 7 (channels of A/C converter with 12-bit resolution)
Serial interfaces: UART, SPI, I2C
External interruptions

Module GSM 

SARAU201

Supported frequency

GSM 850 MHz
E-GSM 1900 MHz
DCS 1800 MHz
PCS 1900 MHz

Built-in antenna: 2 dB

MicroUSB slot
JST slot of charger with a lipol ( in our offer an appropiate cable is available)
Tile sizes: 67 x 25 mm
Weight: 32 g