Attention!
The product has been discontinued. Check others products incategory.
Description
Minicomputer Asus Tinker Boardwith an efficient processorARM Cortex A17quad-core 32-bit processor with a clock frequency of 1.8 GHz. Has2 GB of RAMLPDDR3,16GB eMMC, portGigabit Ethernet,Bluetooth,wi-fi,HDMI 2.0 (4K),4 x USB 2.0,40 GPIO, connectors for card microSD,mini-Jack 3.5 mm,S/PDIF and connectors for CSI and DSI.Works with systems based onLinux. The device is compatible with caps for the Raspberry Pi.
The device has 16 GB eMMC, 4 x USB 2.0 ports, HDMI 2.0 connector, Ethernet port and many others.
What it takes to run minicomputera Asus Tinker Board S?
The main differences: Tinker vs TinkerS
The most important difference in relation to earlier version is the application of additional bone of memory 16 GB eMMC which allows for very complex projects. Tinker S also supportsHDMI-CEC that allows you to control other HDMI devices. Audio connector now supportsthe disabling detectionandautomatic switching of the output signal.The board also detects toolow supply voltage. Other changes include a new API interface I2S, as well asthe ability to work as a slave device. The comparison of both versions and Raspberry can be found onthe website www.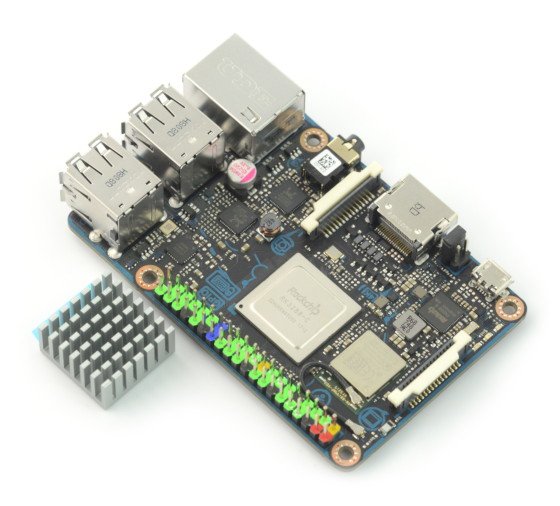 Asus Tinker Board S works with systems based on Linux. A disk of the device is eMMC memory or the microSD card.
The manufacturer adds to the device a compatible radiator.
Communication
Asus Tinker Board S has basic communication interfaces that can be found in office computers of PC class. The user has at his or her disposal:
four USB 2.0, to which can be connected, for example, a mouse, a keyboard, a wi-fi card or USB flash drive. If you find that the slots are too short, you can increase their number usingan external USB HUB.
Ethernet connector, that is the ability to directly connect to the network LAN.
the wi-fi moduleallows communication with wireless network 802.11 b/g/n.
Bluetooth 4.0- enables data transmission through the interface.
GPIO x 40 pin - outputs/inputs with general purpose that can be used to control the LEDs, buttons, drivers of engines. Among them are the pins supporting the interfaces: I2C, SPI and UART. Compatible with caps for Raspberry
a slot for microSDslot for memory card microSD, on which can be installed the operating system.
Power
As a power source, the system uses the microUSB connector. The manufacturer recommends that the voltage indicated on the plug had a value of 5.0 V and output current of the used adapter shall not be less than 2.0 A. In our assortment, you will finda special power supply.
Cases
Leads of Asus Tinker Board S are compatible with Raspberry Pi 3, therefore, the majority of cases for the popular Raspberry are also compatible with Asus. In our service, we have checked the following cases:
Specifications and comparison
Basic information
 
Model
Asus Tinker Board S
Asus Tinker Board
Edition
2018.
2017.
Technical specification of
The core
Quad-Core ARM Cortex A53

Quad-Core ARM Cortex-A17

Rockchip RK 3288

Operating systems

Debian

Android

Debian

Android

Clock frequency

1.8 GHz

1.8 GHz
RAM

2 GB LPDDR3

2 GB LPDDR3
Memory

microSD card

16GB eMMC

microSD card
GPIO slot

Connector 40-pin (2x20 pin)

raster 2.54 mm

Connector 40-pin (2x20 pin)

raster 2.54 mm
Power

5.0 V / 2 A

via microUSB

5.0 V / 2 A

via microUSB

Tile sizes

85 x 54 x 16 mm

85 x 54 x 16 mm
Interfaces
USB interface
4x USB 2.0 - connector type A
4x USB 2.0 - connector type A
Network interface

Ethernet port 10/100/1000 Mbit / s

Ethernet port 10/100/1000 Mbit / s
The Wi-Fi Interface
802.11 b/g/n
802.11 b/g/n
Bluetooth

4.0 + EDR

4.0 + EDR
Camera
the CSI slot
the CSI slot
Touchscreen display
slot for DSI
slot for DSI
Video

HDMI HD 4K H. 264

HDMI CEC Ready

HDMI HD 4K H. 264
Communication

UART, SPI, I2C, GPIO, PWM,

PCM / I2S.

UART, SPI, I2C, GPIO, PWM,

PCM / I2S.

The rest

mini-Jack 3.5 mm

Support of the disabling detection

Automatic switching of the audio signal

Detection of the low input voltage

S/PDIF

mini-Jack 3.5 mm

S/PDIF