Attention!
The sale of the product has been completed. Check others in thiscategory.
Description
Kid's smartphone with a GPS locator
A children's GPS watch is a perfect solution for parents who want to take care of their child's safety. The device allows you to monitor the location in real time, so you can see where your child is at any given time. In addition, the watch with GPS is also equipped with a slot for a micro SIM card and a GSM module, which allows you to make and receive voice calls and send SOS messages in an emergency.
Practical smart watch for your child
The device is equipped with a 400 mAh battery, which ensures long battery life (low power level is additionally signaled). The watch with GPS for a child also has a number of useful options to increase the functionality of the equipment - these include an alarm clock, sleep monitoring or pedometer. The strap and smart envelope for the baby are made of turquoise plastic (other shades are available at other auctions).
Location
A watch designed to track a child by a parent or guardian. Allows tracking via GPS. It has a microSIM connector. Notifies you when the watch is removed or when you leave the permitted zone. SOS button allows you to send a quick message to the parent in case of danger. Additionally, a built-in microphone enables remote eavesdropping on the child's environment.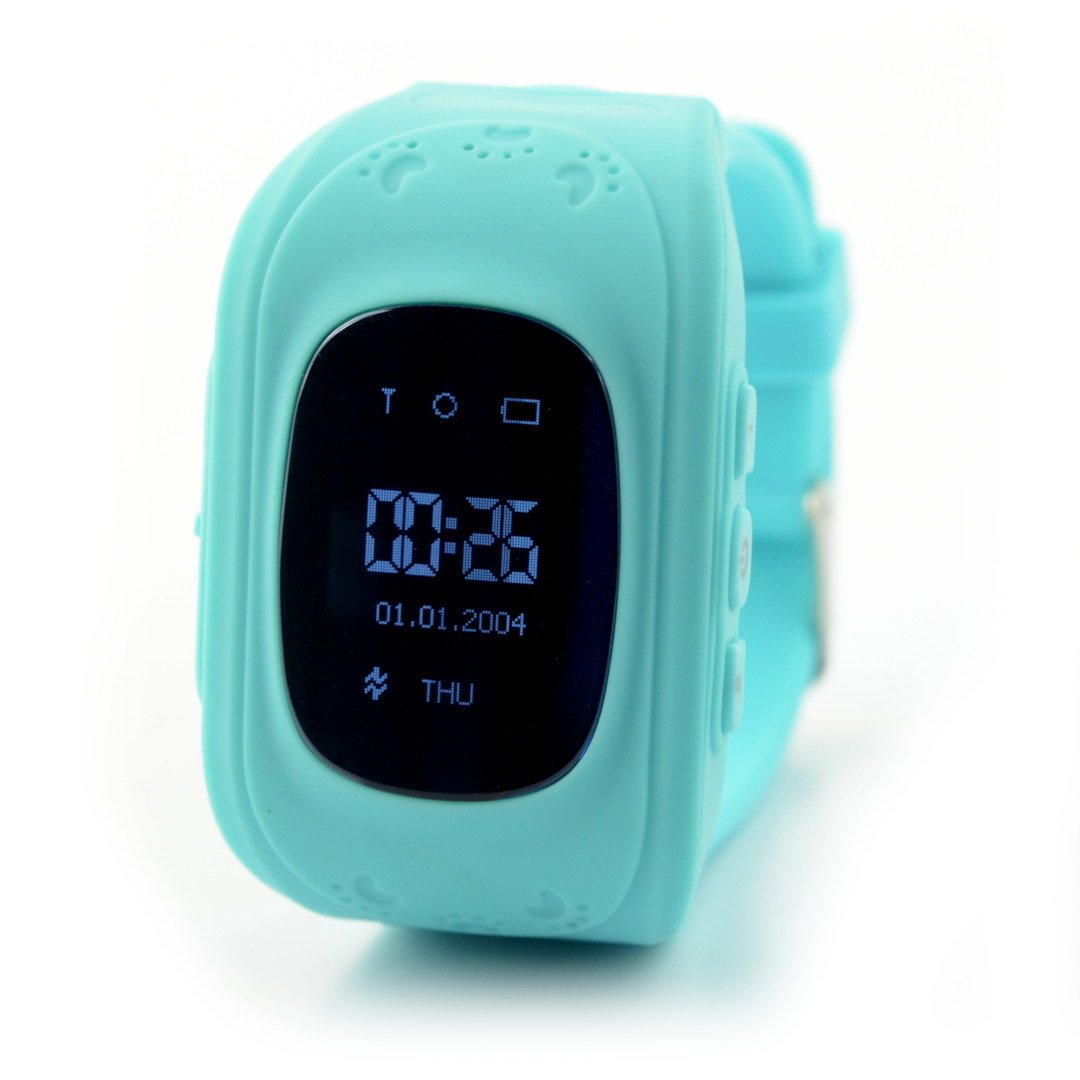 Main features
GPS Locator
MicroSIM connector
Monochrome screen
Outgoing and incoming calls
SOS button: Emergency message to the guardian
Possibility of remote eavesdropping
Step meter
Sleep monitoring
Alarm clock
Specification
Feature
Description
Model
AW-K01
Colour
Turquoise
Display
TFT 0.98 '''
Touch screen
No
Communication
GPS / GSM
Battery capacity
400 mAh
Functions

SOS button

Remote bug

Step meter

Sleep monitoring

Alarm clock

Low battery alarm

Outgoing and incoming calls

Smoke alarm for handheld smartphone

Sizes

50 x 35 x 14 mm

The length of the band:

220 mm
Included
Watch
USB charging cable
Screwdriver
Package
Manual