Attention!
The sale of the product has been completed. Check others in thiscategory.
Product description: Battery Li-Pol Akyga 1000 mAh 1S 3,7 V - 100 mm cables - 50 x 34 x 6 mm
Akygalithium-polymer batterywith a nominal voltage of3.7 Vand a capacity of1000 mAh.Thanks to its low weight and small dimensions, the battery can be used in toys, GPS systems, 3D glasses for phones and TVs, MP3 players, as well as in smart clothes. The battery is equipped withPCMprotection to protect against excessive discharge and overload. The leads are100 mmlong cables.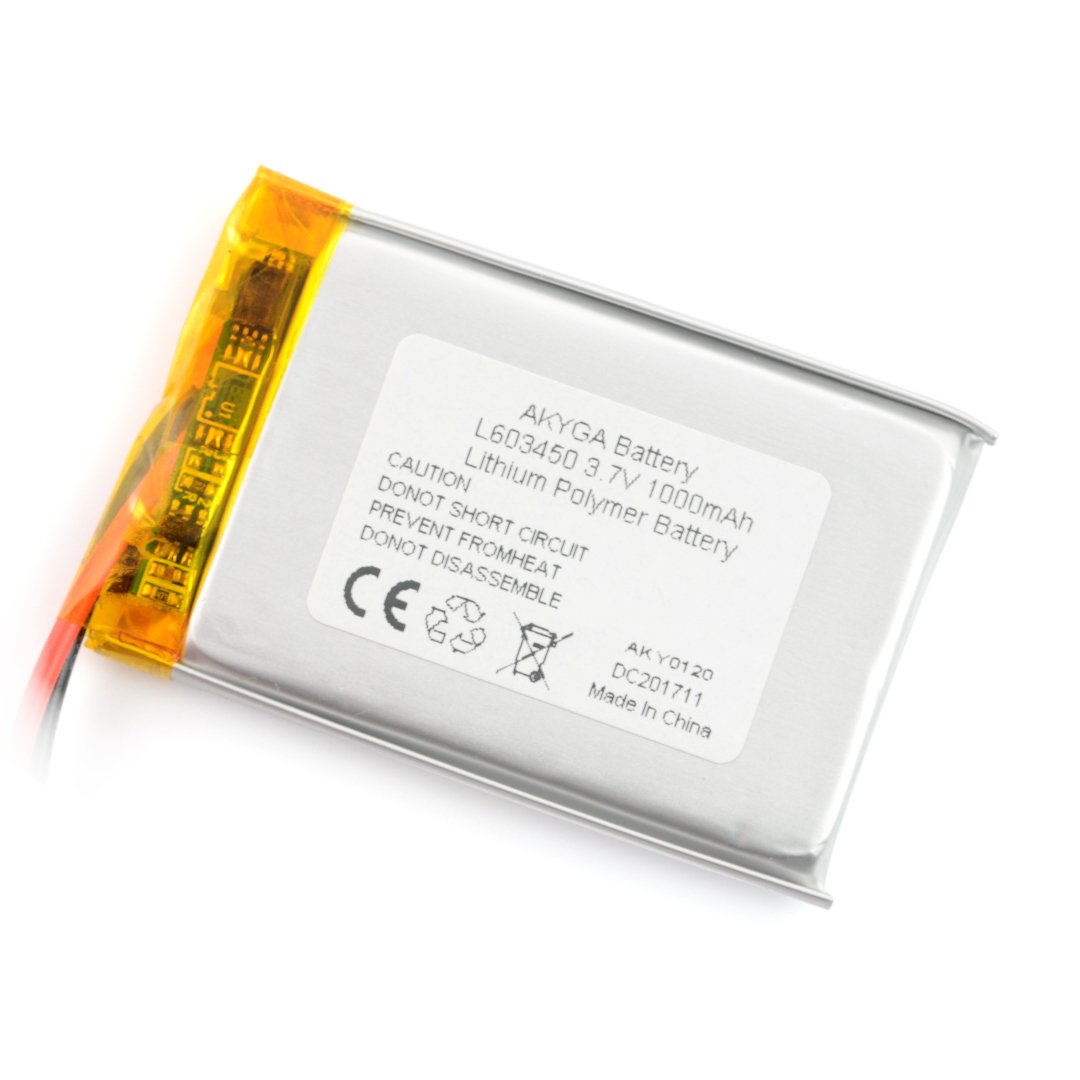 Li-Pol Akyga 1000 mAh 1S 3.7 V Li-Pol Akyga battery - 100 mm - 50 x 34 x 6 mm cables.
Li-Pol battery specifications
Battery type: lithium-polymer

Rated voltage: 3,7 V

Capacity: 1000 mAh

One cell (1S)

Nominal charge/discharge current: 0.2 C (0.2 A) / 0.2 C

Maximum charge/discharge current: 1 C (1 A) / 1 C

Operating temperature range: -20°C to 60°C

Connector: cables with stripped insulation

Power cable length: 100 mm

Security: PCM

Dimensions: 50 x 34 x 6 mm

Weight: 21 g
Important!
The lithium-polymer battery should only be charged usingchargersspecially designed for this purpose. Under no circumstances should a used battery be opened or disposed of in mixed waste. The best solution is to take it to a recycling centre or dealer when buying a new battery. The use of damaged batteries with electrolyte leaks is dangerous to health and even life.
CAUTION!
Before use, it is important to read and understand the following