Attention!
The product has been discontinued. Check other products incategory.
Description
Modular roller shutters controller SRM-22is a part of theExta Lifesystem. It provides control of2 roller shuttersand other 230V motors. It also has the possibility of connecting2 buttons, communicates on a radio frequency of868 MHz. Working range up to330 meters. The module is powered by230V AC, mounted on aDIN rail. Bi-directional data transferallows to read the device status in the app.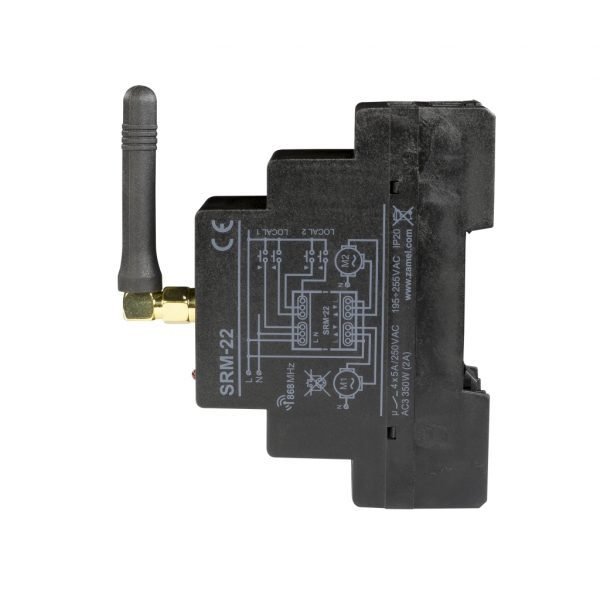 Exta Life
Control system of intelligent building. Has two-way, encrypted transmissions, complex logic functions, remote control devices, automatic sensor recognition, and free automatic updates.
Examples of application
Putting blinds in a certain position - raise / lower roller shutters
Schedules with the controller EFC-01
Supports two roller shutters at a time
Manual control with additional buttons
Specification
Model: SRM-22
Power supply: 230 V AC
Number of channels: 2
Power consumption:
Transfer: station, ISM band 868 MHz (868,50 MHz)
Transmission method: bi-directional, 9600 b/s
The maximum number of paired buttons: 96
The maximum number of connected buttons: 4
Coding: 128-bit key
Applied relay: 4 x NO 230 V / 5 A
Maximum load: 350 W (2A) - class AC3
Mounting: DIN rail Th-35: width of 2 modules
Range: up to 330 m
Signalisation: LED RGB
The possibility of installing an external aerial
Working temperature: from -10 °C to 55 °C
Degree of protection: IP20
Protection class: II
Dimensions: 47,5 x 47,5 x 20 mm
Weight: 40 g
Compliance standards:

PN-ETSI EN 300 220-1
PN-ETSI EN 300 220-2

PN-EN 60669

PN-EN 60950

PN-EN 61000