Attention!
The product has been discontinued. Check other products in category.
Description
Shield, Hat type for Raspberry Pi with RCA and BNC connector. It is used in high quality device, system DigiOne with the high quality S/PDIF interface. System used in device has a resolution of 24-bits, it runs at a frequency of 192 kHz. The device features a very small deviation of jitter and low noise. The shield has galvanic isolation.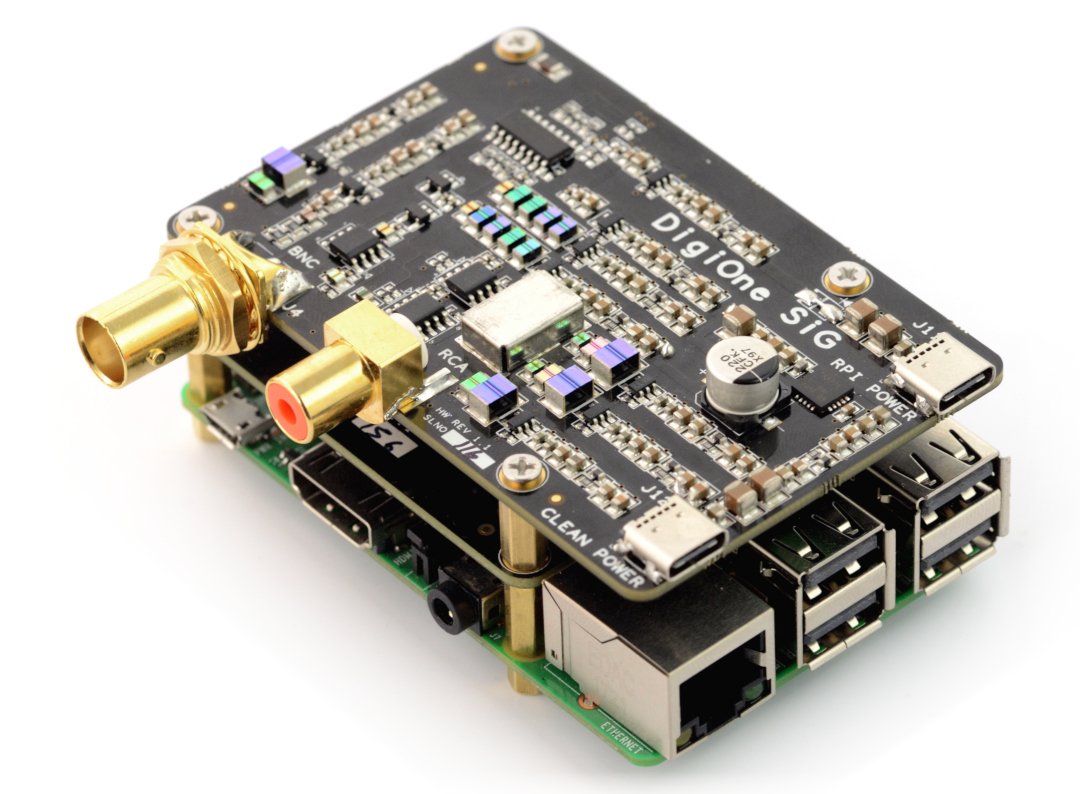 The subject of the sale is the Signature DigiOne shield, minicomputer Raspberry Pi must be purchased separately.
The shield consists of two parts: the lower, "dirty" and the upper "clean". Used were the best capacitors in all of the most important elements (clocks, buffers, slippers). In addition, with this space, added was supercapacitor on the "clean side" so most of the electrons comes from thise built-in "buffer". Also changed were the clocks to newest with the NDK (ultra low jitter SDA), which have lower noise level than the previous generation.
What distinguishes DigiOne
Shield DigiOne is characterized by a system having a resolution of 24 bits which works with a frequency of 192 kHz. Shield is equipped with two connectors: RCA and BNC, they have a jitter that is less than 400 fs, and the noise was greatly reduced. Time of growth / decline is 1 ns.
Attention!
DigiOne Signature need extra power supply, the lower part of the system is powered via the GPIO Raspberry while the upper part needs power supply of 5 V / 6 V with power of 100 mA.
In the first place, you should power the upper part of the shield, and later the Raspberry Pi.
Specification
DigiOne Signature
Interface: S/PDIF
Chip: WM8805
Sampling rate: from 32 kHz to 192 kHz
Screen resolution: 16 bit to 24 bit
Jitter: less than 400 fs
Noise: significantly reduced
Connectors: RCA and BNC
Communication: I2S
Galvanic isolation
The latest NDK clocks with a much lower level of noise
Connected to the GPIO pins of the Raspberry Pi
Needs a double power
Power connectors: 2x USB, type C
The voltage at the bottom of the shield: via the Raspberry Pi 5 V / 3A
The voltage at the top of the shield: from 5 V to 6 V / min.100 mA
The set includes: adapter USB C - BNC and adapter USB C - RCA