Attention!
The product has been discontinued. Check other products incategory.
Description
Central box roller shutters controller SRP-03is a part of the Exta Freesystem. It enables central controlling of roller shuttersand other 230V motors. It is intended tofully open or close the roller shutter or groups of roller shutters. It also has the possibility of connecting2 buttons, communicates on a radio frequency of868 MHz. Range is up to250 m. The module is powered by230V AC.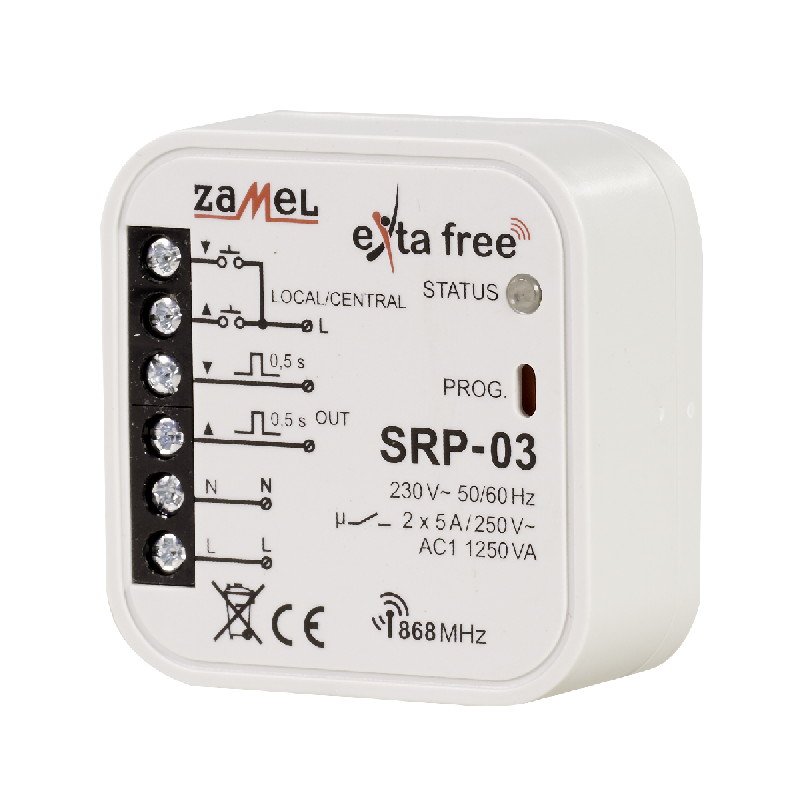 Exta Free
Control system of intelligent building, working with 868 MHz radio frequency. It has a unilateral communication, encrypted transmissions, complex logic functions, and remote control of devices. The mode of operation of each receiver must be added manually. The manufacturer also offers a new series of sensors - Exta Life. A more precise specification of both series of sensors is available on the website of the manufacturer.
Key features
Central (group) control of roller shutters and other 

230 V

motors
Ability to connect two buttons
Ability to work with any roller shutters connector without backlight
Integration with the drivers of the shutters SRM-10 and SRP-01, as well as devices from other manufacturers
Specification
Model: SRP-03
Power supply: 230 V AC
Power consumption:

Standby Mode: 0.4 W
Operation: 0.7 W

Transmission: radio 868 MHz (868,32 MHz)
Transmission method: unidirectional
The maximum number of paired buttons: 32
The maximum number of connected buttons: 2
Coding: transmission with addressing
Applied relay: 2 x 230 V / 5 A
Range: up to 250 m
Signaling: red LED
Working temperature: from -10 °C to 55 °C
Degree of protection: IP20
Protection class: II
Dimensions: 47,5 x 47,5 x 20 mm
Weight: 39 g
Compliance standards:

PN-EN 60669

PN-EN 60950

PN-EN 61000