Attention!
The sale of the product has been completed. Check others in this category.
Description
The inverter allows the use of devices that require 230 V AC power supply using batteries or 24 V DC car systems. It is ideal for powering laptops, USB devices, printers, cash registers, lighting, small household appliances, chargers and other equipment. It generates alternating voltage with a modified sine waveform. It provides 1200 VA maximum power and 600 VA continuous power. The inverter has active cooling and protection against overheating and overload. Included in the kit are 2 spare fuses and a set of power cables terminated with a plug for the car cigarette lighter socket and a set with "crocodile" terminals for the battery and USB socket.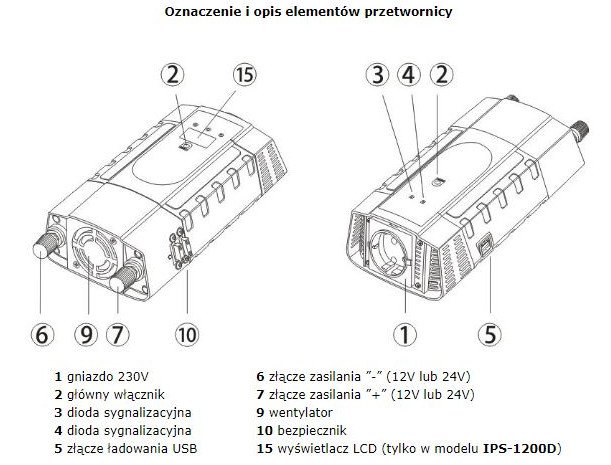 Specification
Product name: IPS-1200 24V
Input voltage: 22 to 30 V DC
Output voltage: 230 V AC
Maximum power: 1200 VA
Continuous power: 600 VA
Output voltage: Modified Sinus
Soft start for induction motors: NO
Overload protection: YES
Short-circuit protection: YES
Thermal protection: 80 °C
Zab. Over-voltage power: 30 V DC
Battery discharge warning: YES
Operating temperature: 0 °C to +40 °C
Efficiency: >85 %
Cooling: Active
Power connector: M6 screw connection
Output socket 230 V: 1 x E (with pin)
USB socket: YES
Case: Plastic
Degree of protection: IP21
Dimensions: 240 x 116 x 60 mm
Weight: 650 g
Details in product card.
The kit includes
IPS-1200

converter
Power cables:

1 set with plug for lighter socket
1 set with "crocodile" type tips for the battery

2 spare fuses
Operating instructions in Polish