Attention!
The product has been discontinued. Check other products in category.
Description
Module with potentiometer with built-inLED RGBwhich changes the colour during the rotation of the knob. One turn increases the whole number by 24 and by -24 in case of rotating in the counterclockwise direction. The module communicates viaI2Cinterface, it has a built-inQwiic connector to facilitate the connection.
LED mounted on the knob of the encoder, can emit more than 16 million of different colors. On the board is Qwiic connector that facilitates the connection and holes for soldering the goldpin connectors.The sensor operates with the voltage of 3.3 V, to connect it to the module operating at 5 V, it is necessary to applya voltage converter.
Connection
The module has five holes for goldpin connectors- 2.54 mm pitch (not included in the package, sold separately). All pins are appropriately signed on the board.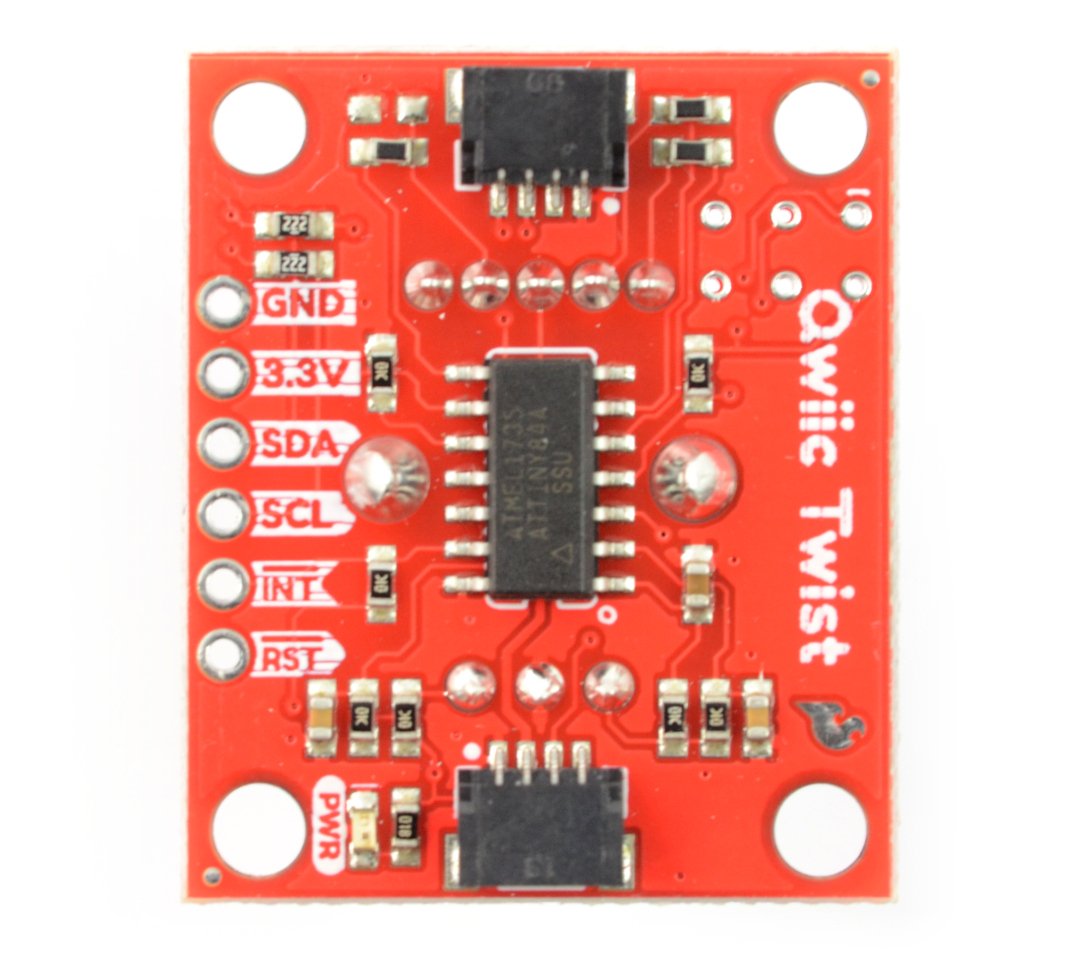 | Pin | Description |
| --- | --- |
| RST | Reset. |
| GND | The ground of the module. |
| VCC | Supply voltage is 3.3 V. |
| SDA | The data line of the I2C bus - it works with a voltage of 3.3 V. |
| SCL | The clock line of the I2C bus - it works with a voltage of 3.3 V. |
| INT | The external interrupt. |
Specification
Supply voltage: 3.3 V
Communication: I2C
Current consumption:

when you turn off the diode: 2,8 mA
when the diode is on: 40,6 mA
24 impulses per turn
Detection of revolutions in the clockwise and counterclockwise direction
Software I2C address configuration - up to 111 devices on one bus
Built-in temporary button
RGB LED controlled by PWM which can provide up to 16 million of colors
The I2C communication speed: 400 kHz
Jumpers for address selection, exceptions of the pulling-up of the interrupt, exceptions of the pulling-up of the I2C
I2C address: 0x3F (open jumper), 0x3E (closed jumper)
2x connector Qwiic
Dimensions: 32 x 26 mm