Attention!
The product has been discontinued. Check others products in category.
Product description: Radiator RAD17 15x11x5mm
Aluminum radiator RAD17 size 15 mm x 11 mm x 5 mm. the Element responsible for the dissipation of heat from the system, which adjoins the air. The radiator is specially formed under miniature computers Raspberry Pi.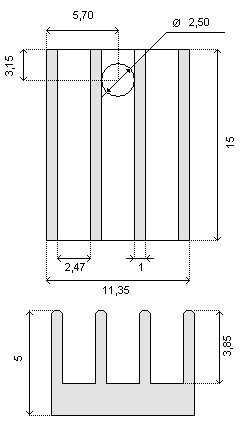 Technical drawing of the radiator RAD17, dimensions are in mm.

Radiators provide safety from overheating of the system in minikomputerach, thanks to their application temperature may drop to 5°C. You do not have tape termoprzewodzącej need to buy I separately.
Technical characteristics of the radiator RAD17
Material: aluminum

Dimensions: 15 x 11 x 5 mm
Number of ribs: 4
The absence of the tape termoprzewodzącej
Compatible with Raspberry Pi