Attention!
The product has been discontinued. Check other products in category.
Product description: Gimbal hand-held Moza Air
The sturdy and lightweightMoza Airgimbal, made of aeronautical-grade aluminium, weighs just1.1 kg. The device can be rotatedin 3 axes.It works with many types of cameras up to 3.2kg.Gimbal can be controlled by means of applications for mobile devices. Built-in battery is sufficient for12 hours of operation.
Supported cameras
Gimbal Moza Air supports cameras with a maximum weight of 3.2 kg and supports most DSLRs such as: Sony a7SII, Panasonic GH5, Canon EOS 5D Mark IV.

Supported cameras by Moza Air.
Simple release system
The simple release plate built into Moza Air is fully compatible with Manfrotto 501PL and Arca Swiss quick release plates. It allows you to remove the camera from the gimbal in a quick and easy way.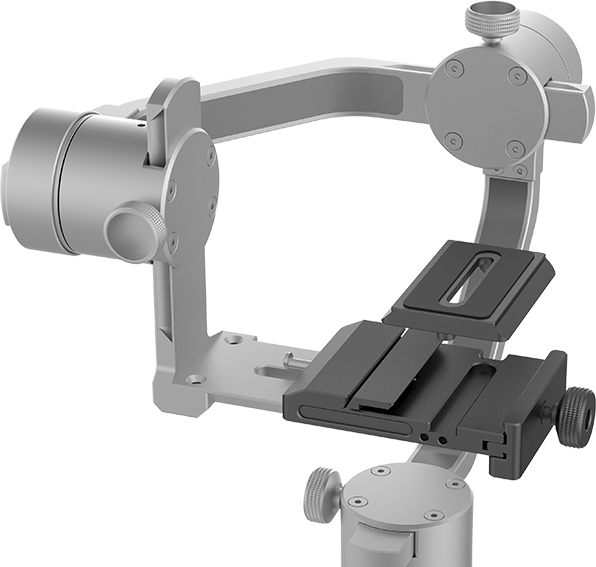 Simple release system.
Moza Assistant application
With gimbal's motion control from Moza Asisstant, you can create smooth, dynamic timelaps with your smartphone or tablet. In the app you can set the length and duration of the recording.
360° rotation
The technology used in the engines allows the gimbal to rotate 360° in the tilt, pitch and rotation axes, moving the limit of camera movement.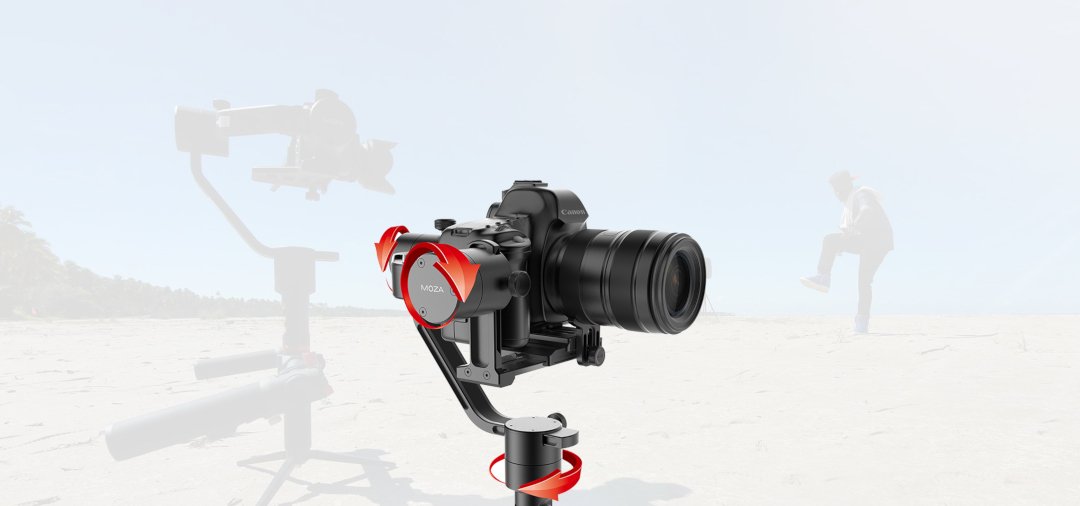 It can be rotated through 360°.
Handle control
Moza Air is equipped with an ergonomic handle that fits perfectly in your hand. Enjoy direct control of the device from the handle. You can turn the gimbal on and off, change modes, control movement, and start and stop recording.

Description of functions on the handle.
Wireless control
The Gimbalem can be controlled using Bluetooth communication and the Moza Assistant application. You can easily create timelapse, adjust parameters, calibrate the device, as well as control the movements of the gimbal and choose from available recording modes.

Application for iOS and Android.
Specification .
Range of movement

Deviation axis (Pan): 360°

Tilt axis (Tilt): 360°

Swivel axis (Roll): 360°

Angular vibration range
0,02°
Battery
Li-Ion 26350
Capacity
2000 mAh
Battery life
12 h
Voltage
3,7 V
Battery operating temperature
from 0°C to 40°C
Bluetooth
4.0
Communication range
5 m
USB input
microUSB
USB output
miniUSB 10-pin
Supported cameras

Canon: Rebel T6i, 5D Mark IV, 5D Mark III, 5D Mark II, 6D, 60D, 7D, 70D
Nikon: D800
Panasonic: Lumix GH5, Lumix GH4, Lumix GH3
Sony: a7S, a7SII, a7R, a7RII, A6000, A6300, a99
Blackmagic Design: BMPCC, BMCC
Fujifilm: X-T2, X-T20, X-Pro2
Leica: M10

Operating temperature
from -5°C to 55°C
Dimensions of gimbal
294 x 90 x 88 mm
Maximum load
3.2 kg
Weight of gimbal
1.1 kg
The set includes
Gimbal Moza Air
Handle
3x battery 26350
Battery charger 26350
Lens bracket
Lens bracket screw
Dual handle
Canon wire
Saxon tube
Panasonic cable
USB cable
Multilingual user manual