Attention!
The product has been discontinued. Check other products in category.
Product description: Gimbal hand-held Mosa AirCross
Moza AirCross is a smallportablegimbal,weighing 0.9 kg. It supports a number of mirrorless instruments with a weight of up to 1.8kg.It is equipped witha quick release system. The gimbal can be controlled wirelesslyvia themobile deviceapplication. The built-in battery lasts12 hours.
Supported devices
The Gimbal Moza AirCross supports all mirrorless instruments with a weight not exceeding 1.8 kg. Its compact design and extraordinary stability make it the best choice for creating smooth recordings with mirrorless cameras.

Supported cameras.
Simple release system
The device is equipped with a special, universal system for quick and easy release of the device from gmibal. The base plate is compatible with any plate from 50.5 mm to 55 mm, making it suitable for both Manfrotto 501PL and Arca. It is therefore easy to dismantle the device, without having to disconnect the entire release plate.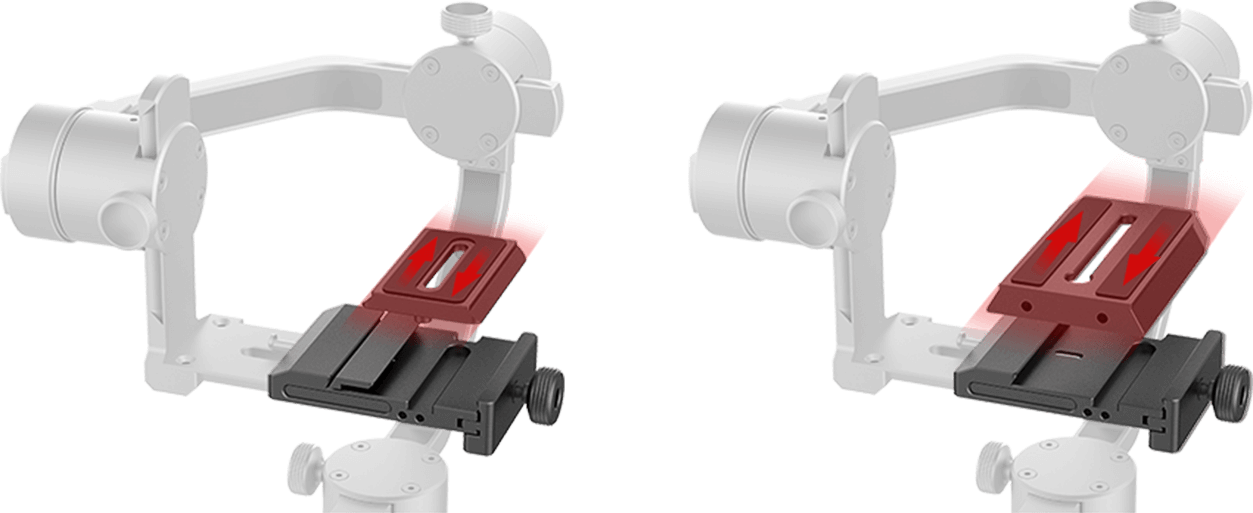 Universal release system.
Recording modes available
In Inception mode, Moza AirCross can rotate 360° in the Yaw axis, allowing you to create extraordinary recordings without the need for creative skills. Using the optional thumb controller (not included), you can control it using mimics. After pairing the controller with the gimbal, you can control 3 seats with facial expressions and movements.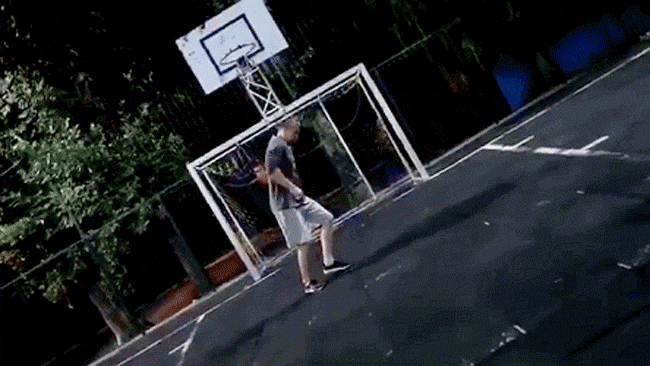 Power sources in the gimbal Moza AirCross
Sony Alpha cameras require additional power supply, due to short battery life. DC output in gimbal allows to connect a "blind battery" to all Sony and Panasonic mirrorless cameras. The revolutionary design of the Moza AirCross gimbal is made up of intelligent power supply technology. Thanks to a12.6Vinput connector in the handle, it is possible to connect an external powerbankto thepower supply of gimbal, charging and recording is available at the same time.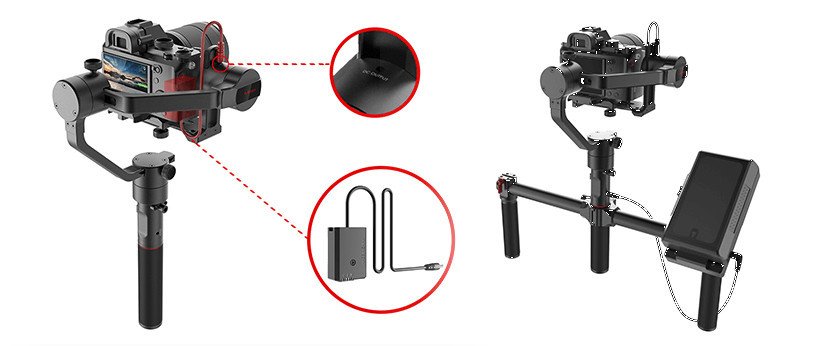 Power supply in the Moza AirCross gimbal.
Sports mode
The Moza AirCross is able to utilise the maximum potential of its engines in a short period of time, in order to move its axles quickly. It can respond to any movement without delay and achieve an amazing scene transition without post-processing.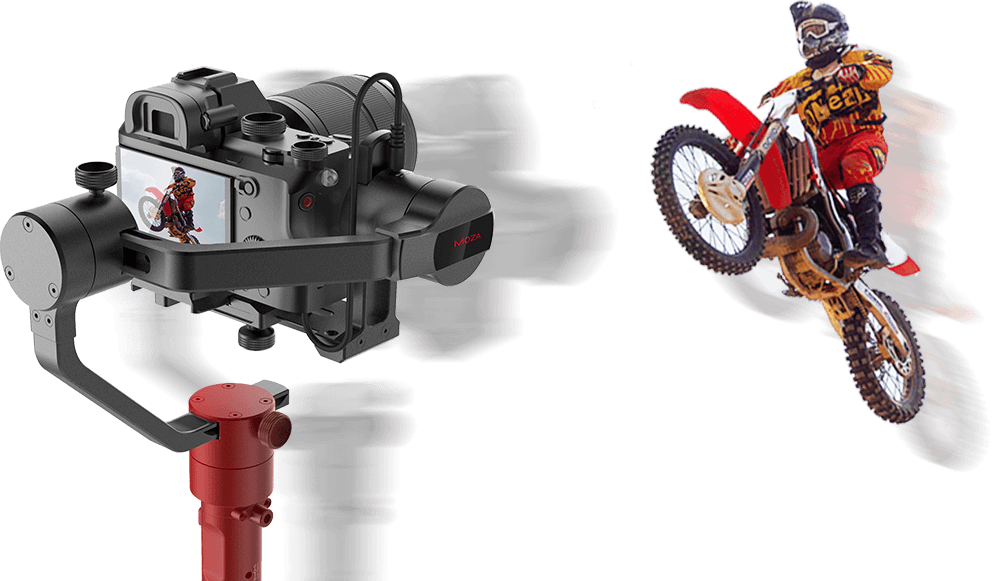 Sports mode.
Moza Assistant application
Gimbal can be remotely controlled with the dedicated Moza Assistant application. The application allows you to tune the device, change the configuration, control the axes, and choose from among the available recording modes.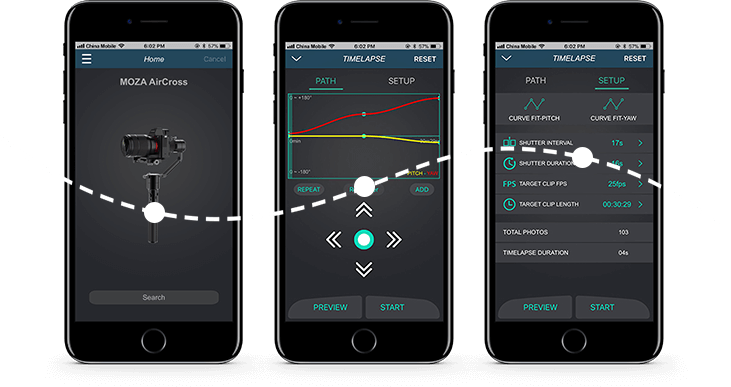 The Moza Assistant application.

Button control
The device has an ergonomic design that fits perfectly in your hand. On the handle there are buttons for basic gimbal control. You can start it, change modes, control axis movement and start and stop recording.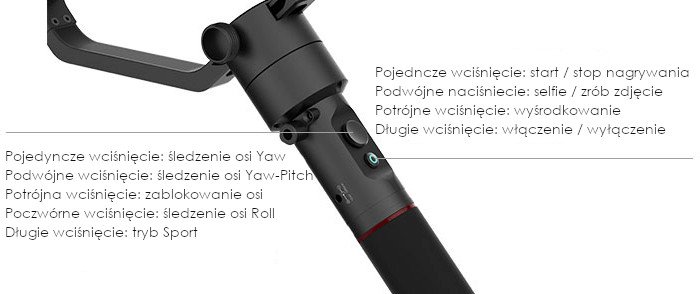 Buttons on the gimbal Moza AirCross.
Specifications of the gimbal Moza AirCross
Specification
Range of movement

Deviation axis (Yaw): 360°

Tilt axis (Tilt): from -175° to +135°

Swivel axis (Roll): 360°

Angular vibration range
0,02°
Battery
Li-Ion 26350
Capacity
2000 mAh
Battery life
12 h
Voltage
3,7 V
Battery operating temperature
from 0°C to 40°C
Bluetooth
4.0
Communication range
10 m
USB input
microUSB
USB output
miniUSB 10-pin
Supported cameras

Sony a7SII, a7S, a7RIII, a7RII, a7R, a6500, a6300, a9, RX100

Panasonic: Lumix GH5, Lumix GH4, Lumix G7, Lumix G85

Canon: EOS M3, M5, M6, M10, M100

Fujifilm: X-T2, X-T20

Operating temperature
from -5°C to 55°C
Dimensions of gimbal
378 x 193 x 175 mm
Maximum load
896 g
Weight of gimbal
1.8 kg
The set includes
Gimbal Moza AirCross
USB cable
Stable
Adjustment kit
User's manual
Handle
Lens bracket
Lens bracket screw
3x battery 26350
Quick Release Plate
Battery charger
Panasonic cable
Sony cable
Canon wire
Suitcase