Description
The popular XBee module allows you to easily create wireless communication between microcontrollers, computers or microprocessor systems through a serial interface.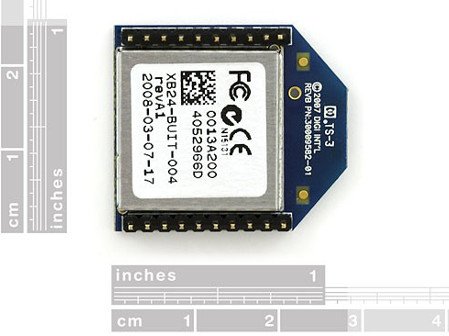 Series 2 is designed to work in a mesh network. The module operates at 2.4 GHz based on XBee ZB (ZigBee mesh) software. It is hardware compatible with the older Znet 2.5 series, but has a newer program. This version has a U.FL connector, which allows to connect an external antenna. It is particularly useful when the circuits are enclosed in a housing. 2 mW transmitter enables communication within a range of about 120 m.

Specification
Power supply voltage: 3,3 V
Power consumption: 40 mA
Serial communication interface UART: DIN DOUT
Transmission speed 250 kbps
Output power: 2 mW (+3 dBm)
Antenna: U.FL connector (external antennarequired )
Range: up to 120 m
Communication via AT or API commands
6 10-bit A/C converter inputs
8 digital input/output pins
Accessories
Our offer also includes accessories, stands and antennas dedicated for XBee series modules. We also sell Arduino Fio with a connector enabling direct connection of the circuit.