Attention!
The product has been discontinued. Check other products in category.
Product description: Odyssey X86J4105800 - Intel Celeron J4105+ATSAMD21G18 8GB RAM WiFi+Bluetooth - Seeedstudio 102110399
Odyssey X86J4125800 minicomputer based on Intel Celeron J4125 Quad-Core processor working from 1,5 GHz to 2.5 GHz with Intel UHD Graphic 600 and ATSAMD21 Cortex M0+ coprocessor. It has8 GB of RAM, built-in 2.4GHz / 5GHz dual band WiFi chip and Bluetooth 5.0. GPIO outputs are 40-pin RaspberryPicompatibleand28-pin Arduino compatible. There are also two Ethernet Gigabit connectors, audio inputs and outputs, three USB ports (2x USB 2.0 and 1x USB 3.0), a USB type C power connector, an HDMI and SATA connector, and a PCI-e. Additionally it has amicroSD andSIM card slot. On the bottom of the board there is alarge heat sink, which ensures effective cooling of the whole system.
Presentation of Odysstey X86J4105800 mini-computer.
Three versions available in the offer:
Odyssey X86J4125800 8 GB RAM
What do you need to run the Odyssey X86J4105800 minicomputer?
MicroSD memory card or SSD / M.2 -the media on which the operating system will be installed

12 V / 2 A - 5.5 / 2.1 mm DC jack or C-type USB connector (power supply with DC plug included)

Mouse and keyboard- to control and enter data into the device
Connected internet - for software download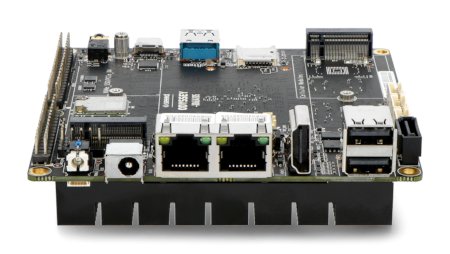 Front panel of the minicomputer.
Operating system for Odyssey
Odyssey X86J4125 works withWindows and Linux.This version of minicomputer has no built-in eMMC memory. You need to createa bootable USB stickand install the system on amemory card orSSD / M.2 previously placed in the module.
Presentation of the work of a minicomputer with Windows.
Communication in Odyssey X86J4105800
The minicoputer is equipped with basic communication interfaces that can be found in PCs. The user has it at his disposal:
three USB connectors (2xUSB 2.0, 1x USB 3.0), under which you can connect peripheral devices such as mouse and keyboard, as well as a USB stick to install the operating system. The number of ports can be extended using e.g. HUBUSB.
Ethernet ports,the possibility to connect to the LAN using a cable, the maximum data transfer speed is 1000 Mbps.
GPIO 40-pin and 28-pin GPIOconnectors are compatible with Raspberry Pi and Arduino. They can be used to connect various sensors, diodes, motor controllers. They include such interfaces as: I2C, SPI, UART.
MicroSD / SIM / SATA / PCI-e slots,allow you to place a SIM card for communication in 4G network (with optional overlay), microSD card, SSD or M.2 drive as a memory carrier.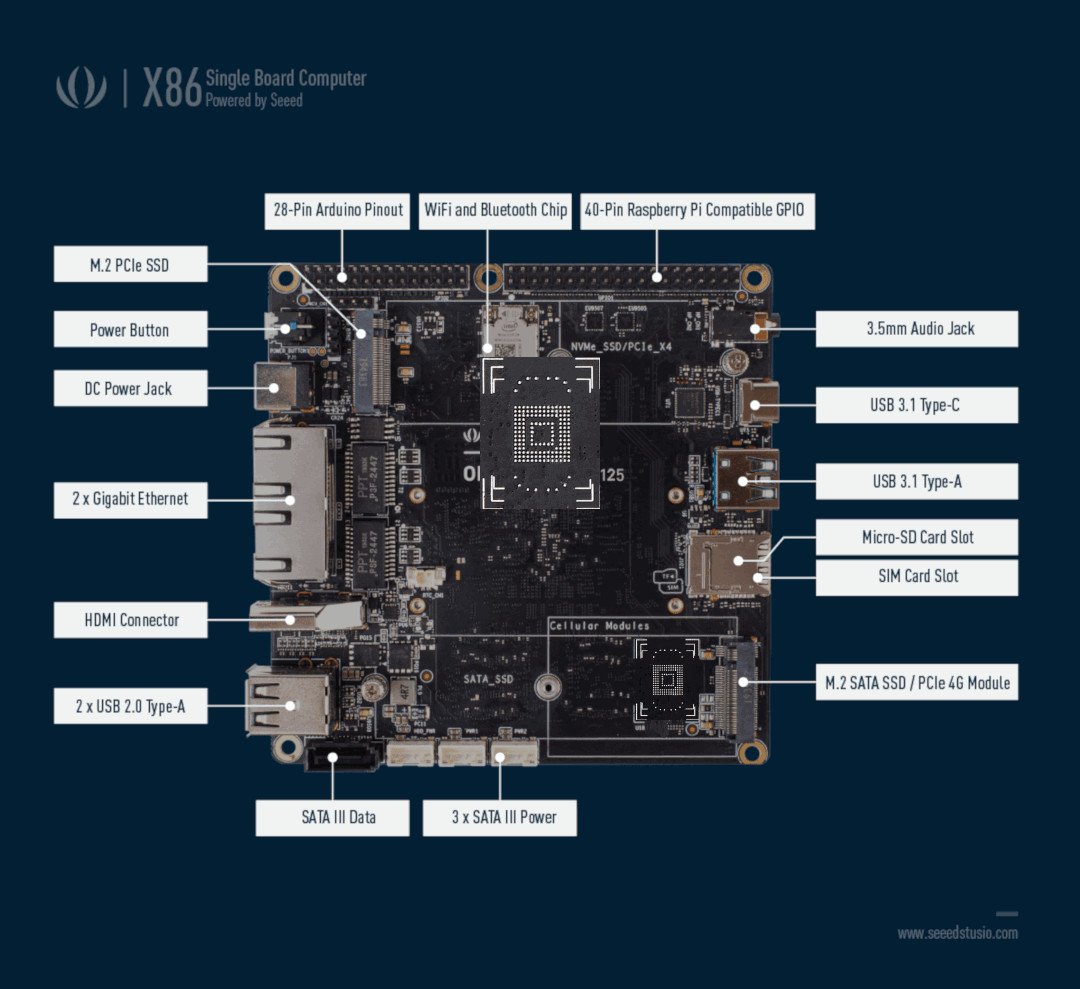 Connectors layout on the Odyssey X86J4105800 board.
Minicomputer power supply
The odyssey can be powered viaUSB type C or DC 5.5 / 2.1 mm. USB connector C supports Power Delivery, supply voltage is 12 V/ 2 A.When powered via the DC connector, the power supply voltage should bebetween 12 V and 19 Vand the current capacity of the power supply should be 2 A. A 12 V / 2 A power supply unit with 5.5 / 2.1 mm DC plug and replaceable caps is included.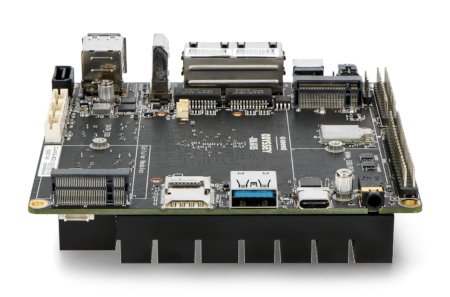 Rear minicomputer panel including microSD/SIM card slot as well as USB 3.0, USB C and mini jack.
Specification and comparison of Odyssey minicomputers
Technical Specification
Model
Odyssey X86J4105800 - 102110399
Odyssey X86J4105864 - 102110397
Odyssey X86J4105864 - 102110398
Basic information
Processor

Intel Celeron J4105

1,5 GHz to 2.5 GHz

Intel Celeron J4105

1.5 GHz to 2.5 GHz

Intel Celeron J4105

1.5 GHz to 2.5 GHz

Coprocessor
ATSAMD21G18
32-bit ARM Cortex M0+
ATSAMD21G18
32-bit ARM Cortex M0+
ATSAMD21G18
32-bit ARM Cortex M0+
Graphics

Intel UHD Graphic 600

from 250 MHz to 750 MHz

Intel UHD Graphic 600

from 250 MHz to 750 MHz

Intel UHD Graphic 600

from 250 MHz to 750 MHz

Memory RAM
LPDDR4 8 GB
LPDDR4 8 GB
LPDDR4 8 GB
Internal memory
No
eMMC 64 GB

eMMC 64 GB

Operating system
Windows, Linux
Windows, Linux
Windows 10 Enterprise activated
Wireless communication
WiFi 802.11 a/b/g/n/ac dual band 2.4 GHz / 5 GHz HT160
Bluetooth 5.0
WiFi 802.11 a/b/g/n/ac dual band 2.4 GHz / 5 GHz HT160
Bluetooth 5.0
WiFi 802.11 a/b/g/n/ac dual band 2.4 GHz / 5 GHz HT160
Bluetooth 5.0
Network
Intel I211AT PCIe Gigabit LAN
Supports Wake-On-LAN and PXE
Intel I211AT PCIe Gigabit LAN
Supports Wake-On-LAN and PXE
Intel I211AT PCIe Gigabit LAN
Supports Wake-On-LAN and PXE
Dimensions
110 x 110 mm
110 x 110 mm
110 x 110 mm
Interfaces
Audio

Mini jack 3.5 mm

Microphone + headphones

Mini jack 3.5 mm

Microphone + headphones

Mini jack 3.5 mm

Microphone + headphones

Connections

1x 40-pin compatible with Raspberry Pi

1x 28-pin SAMD21G18 connectors
1x front panel audio connector
1x 4-pin (UART of SAMD21G18)
1x fan connector (4-pin 1.25 mm PWM 5 V raster)

3x 4-pin SATA power supply

1x 4-pin power supply and switch

1x 40-pin compatible with Raspberry Pi

1x 28-pin SAMD21G18 chip connector
1x front panel audio connector
1x 4-pin (SAMD21G18 chip UART)
1x fan connector (4-pin raster 1.25 mm PWM 5 V)

3x 4-pin SATA power supply

1x 4-pin power supply and switch

1x 40-pin compatible with Raspberry Pi

1x 28-pin SAMD21G18 chip connector
1x front panel audio connector
1x 4-pin (SAMD21G18 chip UART)
1x fan connector (4-pin raster 1.25 mm PWM 5 V)

3x 4-pin SATA power supply

1x 4-pin power supply and switch

USB

2x USB 2.0 Type A

1x USB 3.0 Type A

1x USb 3.1 Type C

2x USB 2.0 Type A

1x USB 3.0 Type A

1x USb 3.1 Type C

2x USB 2.0 Type A

1x USB 3.0 Type A

1x USb 3.1 Type C

Video

HDMI 2.0a: up to 4096 x 2160 px / 60 Hz 24 bpp

DP1.2A: up to 4096 x 2160 px / 60 Hz 24 bpp

HDMI 2.0a: up to 4096 x 2160 px / 60 Hz 24 bpp

DP1.2A: up to 4096 x 2160 px / 60 Hz 24 bpp

HDMI 2.0a: up to 4096 x 2160 px / 60 Hz 24 bpp

DP1.2A: up to 4096 x 2160 px / 60 Hz 24 bpp

Extension slots

M.2 (Key B, 2242/2280): SATA III, USB 2.0
M.2 (Key M, 2242/2280): PCIe 2.0 x4

MicroSD

SIM

SATA III

M.2 (Key B, 2242/2280): SATA III, USB 2.0
M.2 (Key M, 2242/2280): PCIe 2.0 x4

MicroSD

SIM

SATA III

M.2 (Key B, 2242/2280): SATA III, USB 2.0
M.2 (Key M, 2242/2280): PCIe 2.0 x4

MicroSD

SIM

SATA III

RTC
JST 1.0 CR2032 3 V (supplied)
JST 1.0 CR2032 3 V (supplied)
JST 1.0 CR2032 3 V (supplied)
TPM
Built-in TPM (2.0)
Built-in TPM (2.0)
Built-in TPM (2.0)
Power supply
DC Jack 5.5 / 2.1 mm or USB type C PD
DC Jack: 12 V to 19 V / 2 A
USB type C: 12 V / 2 A
DC Jack 5.5 / 2.1 mm or USB type C PD
DC Jack: 12 V to 19 V / 2 A
USB type C: 12 V / 2 A
DC Jack 5.5 / 2.1 mm or USB type C PD
DC Jack: 12 V to 19 V / 2 A
USB type C: 12 V / 2 A
The set includes
Minicomputer Odyssey X86J4105800 
WiFI + Bluetooth antenna and 5 GHz WiFi antenna
SATA adapter
RTC
5.5 / 2.1 mm DC power supply