Attention!
The product has been discontinued. Check other products in category.
Description: Telephoto lens 10Mpx 25mm C Mount C Mount - for Raspberry Pi camera - Seeedstudio 114992274.
Telephoto lens forRaspberry Pi HQ IMX477R.The lens has been equipped with rings for adjusting the iris from F1.4to F16 andfocus.The narrow angle allows to observe distant objects with even greater accuracy. The lens has a CMount.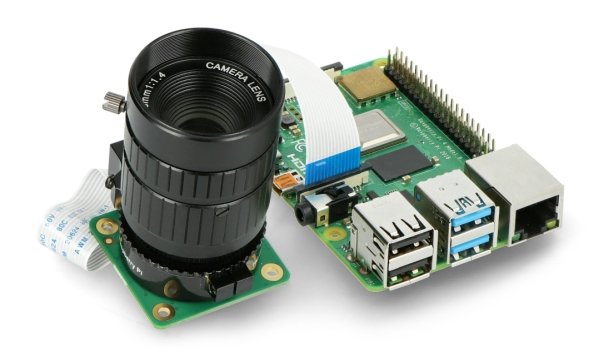 The subject of sale is telephoto lens. The mini-computer and camera module have to be purchased separately.
Lens specifications
Format: 1/2"
Resolution: 10 Mpx
Focal length: 25 mm
Aperture: F1.4 to F16
Angle of vision: 19,6°
Mounting: C Mount
M.O.D. (minimum distance from object): 0,3 m
Dimensions: Φ 34 x 40 mm
Weight: 53 g
Lens comparison
Lens
PT361060M
3MP12
PT3611614M
10MP
114992274
114992275
114992276
114992278
Format
1/2"
1"
1/2"
1/2"
1"
1/2,3"
Focal Point
6 mm
16 mm
25 mm
35 mm
50 mm
from 8 mm to 50 mm
Resolution
3 MPx
10 MPx
10 MPx
10 MPx
8 MPx
3 MPx
Aperture
F1,2
F1.4 to F16
F1.4 to F16
F1.7 to F16
F1.4 to F16
F1.4 to F16
Installation
CS
C
C
C
C
C
Angle of vision
63°

1" 44,6° x 33,6°

2/3" 30° x 23,2°

1/1,8" 24,7° x 16,6°

1/2" 21,8° x 16,4°

19,6°
14,3 x 10,7°
14,5° x 10,9°

Wide angle: 41,8° x 30,8°

Narrow angle: 6.42° x 4.80°

Min. distance from object
0,2 m
0,2 m
0,3 m
0,35 m
0,5 m
0,5 m
Set contents
10 Mpx 25mm telephoto lens for Raspberry Pi HQ IMX477R