Attention!
The product has been discontinued. Check other products in category.
Product description: Door opening detector - Dragino LoRaWAN - EU868MHz - LDS01
Door openingsensorfrom Dragino. Enables detection of door opening/closing status and allows to keep statistics of these events. Powered byCR2032battery. For wireless communication usesLoRaWANprotocol and supported frequency band is868 MHz. The sensor is used in widely understoodhome automation, security systems and smart city projects.
It is recommended to replace the battery when its voltage drops below 2.8 V. After replacement, remember to press the RESET button in order to activate low power consumption mode.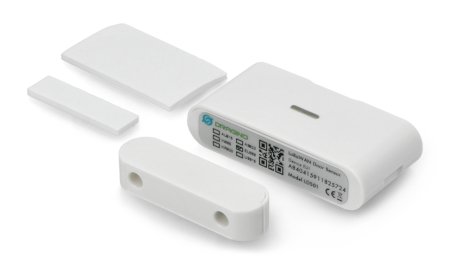 The module is powered by a CR2023 pastille battery, included in the package.
Wide range of applications
Wirelessalarmand security systems
Intelligent automation of houses and buildings
Industrial monitoring and control
Smart cities
Smart Factory
Technical specification
Door opening / closing detection
Door opening / closing count
Version: LoRaWAN v1.0.3 class A
Frequency band: 868 MHz
Core: SX1262
Commands: AT
Power supply: CR2032 battery
Dimensions: 64 x 30 x 14 mm