Attention!
The product has been discontinued. Check other products in category.
Product description: DC motor driver + FeatherWing stepper - overlay for Feather - Adafruit 2927
DC motordriver withTB6612chip in the form of an overlay for Feather. Produced byAdafruit, the module usesI2Cbus to communicate with the main module. It allows to control two stepper motors or four brush motors. It can support motors operating from4.5 V DC to 13.5 V DCwith a current consumption ofless than 1.2 A.
Arduino compatible product
Auser guideandlibraryfor the Arduino IDE environment are available on the manufacturer's website.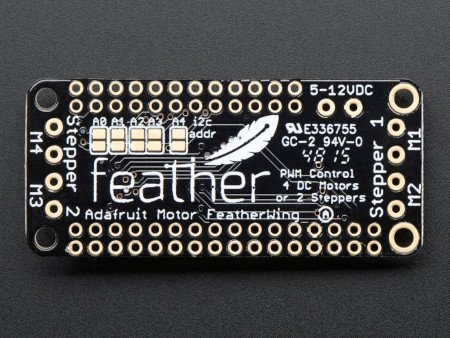 DC motor driver in the form of FeatherWing overlay manufactured by Adafruit.
Overview of key features
Built-in TB6612 chip
Support for up to 4 bi-directional DC motors with individual 12-bit speed selection (so about 0.02% resolution)
Supports up to 2 stepper motors (unipolar or bipolar)
Equipped with 3.5mm screw terminals for easy wiring and power supply
Polarity protected 2-pin terminal block
Design allowing to stack modules
Technical Specification
Overlay for Feather
Chip: TB6612
Parameters of supported motors:

voltage: from 4.5 V to 13.5 V DC
current consumption: less than 1.2 A

Connected motors require additional power supply
Communication interface: I2C
Built-in PWM control system
Dimensions: 50.8 x 22.9 x 1.6 mm
Weight: 4.6 g
Contents of the set
DC motor driver as an overlay for Feather
Goldpin strips - 2,54 mm raster
Screw connectors - 5 pcs. (come in two colors: black and blue, sent randomly)