Attention!
The product has been discontinued. Check other products in category.
Description: Rechargeable Panasonic Eneloop MIX - R6 AA Ni-MH 2000mAh 4 pcs. + R03 AAA Ni-MH 750mA 4 pcs.
A set of8 rechargeableNi-MHbatteries from Panasonic. It contains 4 pieces of efficientAAbatteries (large sticks) with the capacity of 2000 mAh and 4 pieces ofAAAbatteries (small sticks) with the capacity of 750 mAh. In the production process, they have been charged withecological energycoming from photovoltaic cells. They have a low self-discharge rate and are characterized by along life, which allows them to achieveup to 2100 charging cycles.
Special features
Ready-to-use- the batteries have been precharged by means of photovoltaic cells, so there is no need to charge them before first use.
Low self-discharge rate- maintains 70%self-dischargefor up to 10 years of use.
Environmentally friendly and recyclable- the life of the batteries reaches as many as 2100 charging cycles, which contributes to reducing the amount of waste.
Stable voltage level- remains above 1.1 V for a long time.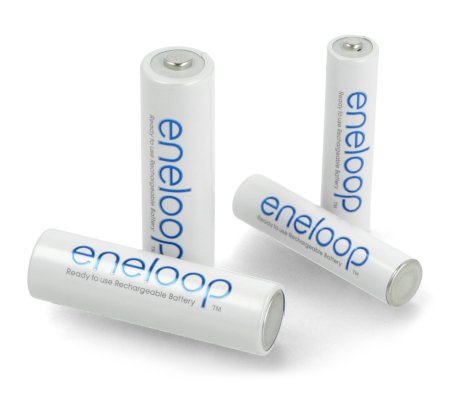 The accumulators can be used with all nickel-metal hydride cell chargers.
Technical specification
Manufacturer: Panasonic
AA rechargeable battery:

designation: R6 / AA / MIGNON / BK-3MCC
type of the battery: nickel-metal hydride Ni-MH
typical capacity: 2000 mAh
minimum capacity: 1900 mAh
voltage: 1,2 V
diameter: 14.5 mm
height: 50.5 mm
number of pieces in the set: 4

AAA rechargeable battery:

designation: R03 / AAA / MICRO / BK-4MCCE
rechargeable battery type: nickel-metal hydride Ni-MH
typical capacity: 800 mAh
minimum capacity: 750 mAh
voltage: 1,2 V
diameter: 10.5 mm
height: 44.5 mm
number of pieces in the set: 4

lifetime: up to 2100 charging cycles
Set contains 8 pieces of rechargeable batteries