Attention!
The product has been discontinued. Check other products in category.
Product description: NB-IoT Expansion Shield SIM7000A overlay for Arduino - DFRobot DFR0763
The SIM7000Aoverlay is a multi-bandLTE-FDD modulein an SMT package, supporting LTE CAT-M1(eMTC) data transmission up to375 kbps. It can be expanded via UART, USB 2.0, GPIO interfaces, etc. It provides simple component integration and is compatible with SIM900 and SIM800F. This module is ideal for M2M applications such as metering, telematics, asset tracking, remote monitoring, E-health or mobile mail terminals. It allows to make voice calls or send SMS messages. On the SIM7000A board there are, among others, aSIM cardconnector and a u.FL socket for mounting an externalantenna. NB-IoT is a new field of the Internet of Things, which supports connection to a mobile network over a WAN. In addition,the overlayhas a BME280 environmental sensor.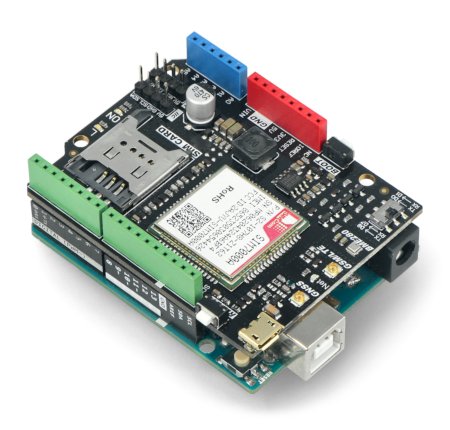 Connecting the SIM7000A module to the controller. Arduino board must be purchased separately.
Technical specification SIM7000
Operating voltage: 5 V -NOTE: The module draws a large amount of current immediately when plugged in. An external power supply is required.
Supply voltage: 7 V to 12 V (recommended); VIN range: 6 V to 20 V
SIM card and NB-IoT card support -NOTE: Make sure that the frequency range of the SIM card used is included in the supported frequency range
Communication Module SIM7000A
Four-band FDD-LTE: B2 / B4 / B12 / B13
Cat-M: B2 / B4 / B12 / B13
Cat-NB: B2 / B4 / B12 / B13
Module controlled by AT commands
Operating temperature: from -40℃ to + 85℃
GNSS (GPS, GLONASS, BeiDou, Compass, Galileo, QZSS)
Software update via USB 2.0
Dimensions: 67 x 54 mm
Environmental Sensor Technical Specification
Type: environmental sensor
Chip: BME280
Temperature measurement

measuring range: from -40°C to 85°C
resolution: 0.1°C
accuracy: ± 0.5°C

Humidity measurement:

measuring range: from 0% to 100% RH
resolution 0.1% RH
accuracy: ± 2% RH
sampling time 1 s

Pressure measurement

measuring range: from 300 hPa to 1100 hPa