Attention!
The product has been discontinued. Check other products in category.
Product description: Shelly Plus 1PM - 1x 30VDC / 230VAC WiFi 16A relay - energy measurement - Android / iOS application
Next Generation WiFi Controller - Shelly Plus. Shelly Plus 1PM is an improved version of the Shelly 1PM module, which is based on a chip ESP32 with more RAM and support for MQTT and HTTP / HTTPS Webhooks. The module is equipped with one WiFi relay with energy measurement function. Wireless communication enables remote control of 230 V AC or 24 V to 30 V DC devices with maximum current consumption of up to 16 A. Devices can be controlled using a mobile application, automation systems via MQTT or using a physical button.
Main features of Shelly Plus 1PM
WiFi and Bluetooth communication. The controller connects to your home WiFi network, no additional gateway is required. Built-in Bluetooth chip allows fast connection using the Shelly Cloud application.
Low Voltage Support. Shelly Plus 1PM can be powered from 110 V to 240 V AC and 24 V to 30 V DC.
Energy Measurement. The device allows you to monitor your electricity usage, helping you reduce your electric bill.
Fast processor. ESP32-based for instant command execution.
Enhanced safety. Protection against overheating prevents failures. MQTT and WSS support, TLS support and custom certificates for a wide range of applications.
Improved API. Extensive cloud connectivity and local integrations at significantly lower cost.
Voice Control. The device works with voice assistants Amazon Alexa, Google Home, Yandex Alica
Supported platforms. Amazon Alexa, Google Home, Yandex Alica, Smart Things, MQTT, Home Assistant, REST, Homey, Hubitat, Hoobs, Symcon, Home Seer, Domoticz, Nymea, openHAB
Shelly Plus 1PM Specifications
AC supply voltage: from 110 V to 230 V ±10%, 50 / 60 Hz
DC supply voltage: from 24 V to 30 V
Maximum load: 16 A
Number of channels: 1
Current consumption: up to 1 W
Communication: 2.4 GHz WiFi 802.11 b/g/n / Bluetooth
Operating temperature: 0°C to 40°C
Protection against excessive temperature
Dry Contacts
Features:

HTTP / HTTPS webhooks
Energy measurement
Custom scripts (mJs)
Intelligent On/Off
Schedule

Dimensions: 41 x 36 x 16 mm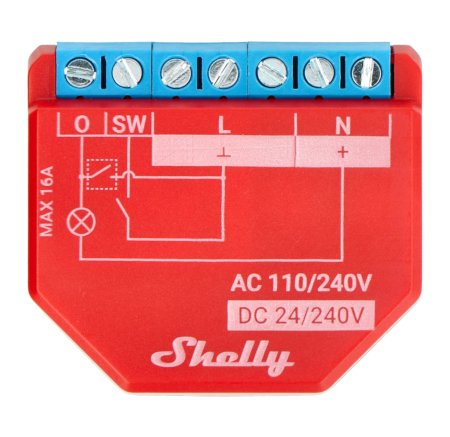 The wiring diagram is located on the Shelly Plus 1PM controller enclosure.
Comparison of Shelly 1PM and Shelly Plus 1PM